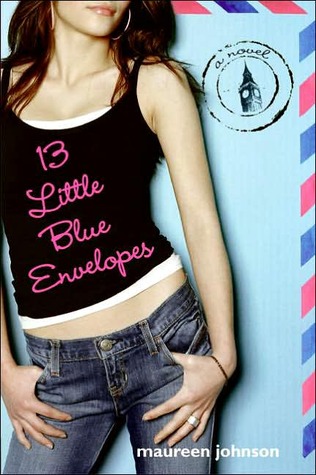 Inside little blue envelope 1 are $1,000 and instructions to buy a plane ticket.

In envelope 2 are directions to a specific London flat.

The note in envelope 3 tells Ginny: Find a starving artist.

Because of envelope 4, Ginny and a playwright/thief/ bloke–about–town called Keith go to Scotland together, with somewhat disastrous–though utterly romantic–results. But will she ever see him again?

Everything about Ginny will change this summer, and it's all because of the 13 little blue envelopes.
Description taken from Goodreads.
---
I read this book for the Around the World 2016 Challenge (information below!) and I do have to give this book credit because if you wanted to vicariously travel Europe through a young-adult book, this is your book. Despite the awful cover, this book does a great job of creating the world of Europe and the different idiosyncrasies of each country that the book goes through.
This is a hard review to write because I did make it through this book. It was fun, and I really enjoyed reading about Ginny's adventures. I loved getting to know Ginny's aunt, and I thought it was a pretty good story despite the massive amounts of suspended disbelief involved in the reading of it.
However, I also read this book because I was expecting Maureen Johnson's signature wit and humor that is so ever-present on Twitter (if you're active on Twitter, Maureen is a must-follow).
None of that wit and humor showed up in this book, much less in the main character. In fact, maybe it did, but I woudn't know, because I hardly understood Ginny at all. If you wanted me to tell you five things about her, I wouldn't be able to. By the end of the book, all I had was:
She can be extremely touchy and overreactive.
She cares deeply about her friends and family that are actually present within the story (

13 Little Blue Envelopes

suffers from Disappearing Parent Syndrome).
She goes by Ginny or Ginger but her actual name is Virginia Blackstone.
Perhaps Ginny's one-dimensionality would have been less noticeable had she actually spoken a little bit more throughout this book. In 80% of the first 100 pages of this book, she says little to nothing, and the fact that this story, set in 3rd person narrative, centers on Ginny makes almost no difference in how much we know about her.
It wasn't just Ginny that completely lacked personality, but all of the characters. While I did enjoy some of them, such as Richard, some characters were completely pointless to me. I couldn't fall in love with the love interest, and while going from place to place was cool, it made all of the characters seem completely inconsequential. Topped off with an anticlimactic ending, this is a book that I would recommend, but not for the story's sake. 2 stars.
I am reading this for the Around the World 2016 Challenge! To learn more about it, read my introductory post! 
pg count for the paperback: 322 pages
Series: 13 Little Blue Envelopes #1