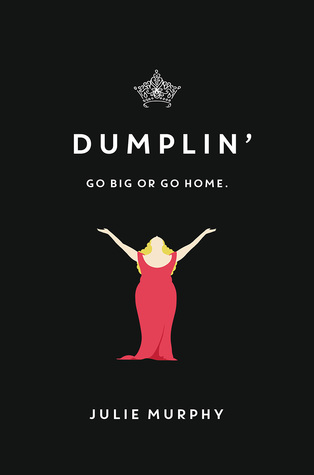 Self-proclaimed fat girl Willowdean Dickson (dubbed "Dumplin'" by her former beauty queen mom) has always been at home in her own skin. Her thoughts on having the ultimate bikini body? Put a bikini on your body. With her all-American beauty best friend, Ellen, by her side, things have always worked…until Will takes a job at Harpy's, the local fast-food joint. There she meets Private School Bo, a hot former jock. Will isn't surprised to find herself attracted to Bo. But she is surprised when he seems to like her back.

Instead of finding new heights of self-assurance in her relationship with Bo, Will starts to doubt herself. So she sets out to take back her confidence by doing the most horrifying thing she can imagine: entering the Miss Clover City beauty pageant—along with several other unlikely candidates—to show the world that she deserves to be up there as much as any twiggy girl does. Along the way, she'll shock the hell out of Clover City—and maybe herself most of all.

With starry Texas nights, red candy suckers, Dolly Parton songs, and a wildly unforgettable heroine—Dumplin' is guaranteed to steal your heart.
Description taken from Goodreads.
---
Dumplin' had all the right elements, and it had a fantastic premise on top of all of that. I loved getting to know Willowdean, and I sympathized with her, but not because of her weight.
There were many great lovable characters to Dumplin', and the ones that weren't lovable were still vital to the story. Willowdean's relationship with her mom was very well done, even if I felt like no real progress was made until about the middle of the book. However, Willowdean and her mom both eventually grow over the course of the story, which was great to see. It made me want to love Willowdean, and helped me to better understand where she was coming from. Other great side characters were El (Willowdean's best friend) and Tim (El's boyfriend).
There were a few side characters that I didn't understand the purpose of, such as Willowdean's deceased aunt, and a few too many petty bullies, but that wasn't that much of an issue.
And then, of course, there was Bo. Bo was ehhhh, and so was his relationship with Willowdean. I never felt connected to him. He was a one-dimensional character that tried to become something more than that and failed. On a shallow level, he was sweet, but most of the time, even though much of this story was spent listening to Willowdean pine over or drive away Bo, this story didn't feel like it was about him at all.
Dumplin' tries to send a very positive message in more ways than one, but it ruined it by being hypocritical, which was my biggest problem with this book. Willowdean isn't perfect, and I get that, but far more than once throughout this story, she looked down on others for their weight and judged everyone that she saw. She was never happy with anyone, including her best friend. For someone who claims to be happy with her body, she sounds pretty insecure.
All in all, I would recommend Dumplin', but err on the side of caution if you want to read it because it's a body-positive book. Pacing slows down by the middle and continues that way until the end, and plot becomes almost entirely pageant-oriented in the second half. 2.5 stars.
pg count for the hardback: 375