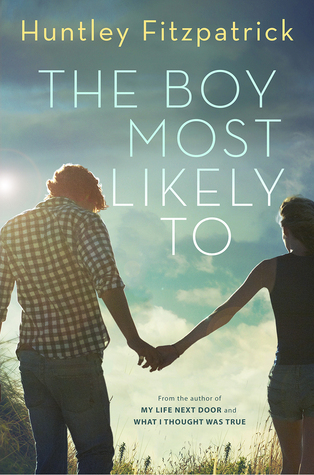 Surprises abound and sparks ignite in the highly anticipated, utterly romantic companion to My Life Next Door.

Tim Mason was The Boy Most Likely To:
– find the liquor cabinet blindfolded
– need a liver transplant
– drive his car into a house

Alice Garrett was The Girl Most Likely To:
– well, not date her little brother's baggage-burdened best friend, for starters.

For Tim, it wouldn't be smart to fall for Alice. For Alice, nothing could be scarier than falling for Tim. But Tim has never been known for making the smart choice, and Alice is starting to wonder if the "smart" choice is always the right one. When these two crash into each other, they crash hard.

Then the unexpected consequences of Tim's wild days come back to shock him. He finds himself in a situation that isn't all it appears to be, that he never could have predicted . . . but maybe should have.

And Alice is caught in the middle.

Told in Tim's and Alice's distinctive, disarming, entirely compelling voices, this return to the world of My Life Next Door is a story about failing first, trying again, and having to decide whether to risk it all once more.
Description taken from Goodreads.
---
Like so many others, I fell in love with Tim Mason in Huntley Fitzpatrick's My Life Next Door, but not in the usual way. Tim Mason isn't so much cute and wonderful as he is pitiable. In the beginning of The Boy Most Likely To, we see Tim trying to deal with his drug addictions and his family's mounting pressure to get a good job. Maybe it this was all there was to Tim, I wouldn't have been able to stand this book, but there's so much more. He deeply cares about his twin, Nan, and tries his hardest to do what's right. Even though he isn't a good person by most standards, he tries to do right by Alice and the people who have taken care of him when he had no one else.
If you loved Tim in My Life Next Door, then The Boy Most Likely To probably won't disappoint.
But to the average fantasy fan, this might not be the most enchanting. I didn't have this problem with My Life Next Door, but in The Boy Most Likely To, I was exhausted trying to keep all the characters straight. The plot was fine, if a little uneventful. I really enjoyed seeing Alice and Tim get together, and even though their struggles were really sad and it was hard to see them go through the things they had to deal with, the story was still positive.
The pacing was completely off because it was taking me forever to get through the story, so the only real highlight for me was coming back to this world and getting to know Tim and Alice better. I loved the ending, and there were some great moments throughout this story, but otherwise, I didn't enjoy this book nearly as much as the first one. While I'm glad that I read it, I wouldn't recommend this one to anyone who doesn't typically enjoy contemporary or didn't completely love Alice and Tim. 2 stars.
pg count for the hardback: 425