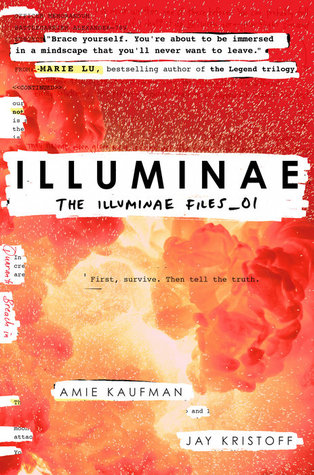 This morning, Kady thought breaking up with Ezra was the hardest thing she'd have to do.

This afternoon, her planet was invaded.

The year is 2575, and two rival megacorporations are at war over a planet that's little more than an ice-covered speck at the edge of the universe. Too bad nobody thought to warn the people living on it. With enemy fire raining down on them, Kady and Ezra—who are barely even talking to each other—are forced to fight their way onto an evacuating fleet, with an enemy warship in hot pursuit.

But their problems are just getting started. A deadly plague has broken out and is mutating, with terrifying results; the fleet's AI, which should be protecting them, may actually be their enemy; and nobody in charge will say what's really going on. As Kady hacks into a tangled web of data to find the truth, it's clear only one person can help her bring it all to light: the ex-boyfriend she swore she'd never speak to again.

Told through a fascinating dossier of hacked documents—including emails, schematics, military files, IMs, medical reports, interviews, and more—Illuminae is the first book in a heart-stopping, high-octane trilogy about lives interrupted, the price of truth, and the courage of everyday heroes.
Description taken from Goodreads.
---
Here's the problem that I have with all books like this (and I'm not saying I didn't like Illuminae): Imagine stringing together a bunch of vaguely connected gifs and Wikipedia pages and images and giving that to someone and telling them it's a story.
Call me a traditionalist, but I hate this format every. single. time. 
It's not that Illuminae wasn't beautifully created. There are some completely gorgeous pages in there, and I enjoyed the general story behind it. There's a ton of action going on that makes the format worth reading, but so much of the time I felt like there was wayy too much going on and wayy more information than I needed in order to get a grasp of the situation. The interviews were fun, the Wiki-style pages were okay, but most everything else, including those chats,
* a moment of silence for how awful and dragging those chats were *
wasn't that great.
Moving on from that, the rest of Illuminae was pretty freaking awesome. Think of the most epic sci-fi story you know. If you said Star Wars, then it's on that level. If you didn't, then it's a thousand times better. There are so many different elements to the novel that I constantly had something to focus on, but didn't have much trouble connecting it all together.
I wasn't the biggest fan of Kady, but Ezra was cool and the struggles they had to go through were great to read about. I really enjoyed them as a couple, and it was interesting to see how they had to come back from falling out of love.
The world building was incredible, and the plot was amazing. I expected many of the twists, but there were a few that completely caught me off guard. I didn't expect there to be moral choices in this book, but there are segments where Ezra's in the military and has to make a few tough calls in order to truly get back to where he wants to be. All in all, this story was exhausting to read at times, but in the end, I fell in love with the characters, the ending and the story itself. The ideas are brilliant, and I'm looking forward to what the next book will bring. 4 stars.
I need it. ;-;