Waiting on Wednesday is a popular weekly meme that was started by Jill over at Breaking the Spine. It's where you spotlight a book that you're really excited for and are eagerly anticipating. So what am I dying for this week? It's a completely BA, take-no-prisoners story about hacking called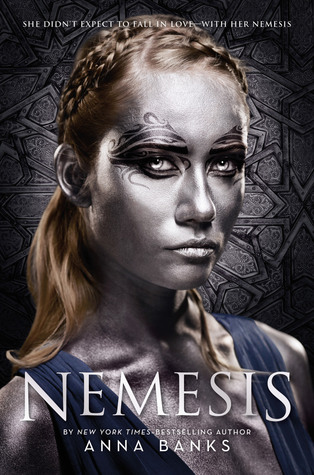 Nemesis
Author: Anna Banks
Expected publication: October 4th, 2016
The princess didn't expect to fall in love–with her nemesis.
Princess Sepora of Serubel is the last Forger in all the five kingdoms. The spectorium she creates provides energy for all, but now her father has found a way to weaponize it, and his intentions to incite war force her to flee from his grasp. She escapes across enemy lines into the kingdom of Theoria, but her plans to hide are thwarted when she is captured and placed in the young king's servitude.
Tarik has just taken over rulership of Theoria, and must now face a new plague sweeping through his kingdom and killing his citizens. The last thing he needs is a troublesome servant vying for his attention. But mistress Sepora will not be ignored. When the two finally meet face-to-face, they form an unlikely bond that complicates life in ways neither of them could have imagined.
Sepora's gift could save Tarik's kingdom from the Quiet Plague. But should she trust her growing feelings for her nemesis, or should she hide her gifts at all costs?
A thrilling futuristic fantasy in which the fate of the world's energy source is in the hands of a prince and princess who are rivals, by the New York Times-bestselling author of the Syrena Legacy.
Description taken from Goodreads.
---
One thing, first and foremost: not quite sure how I feel about the cover. Part of me screams "Female Silver Surfer"–
but part of likes it. I guess we'll just have to take a look at it once it's printed.
Now that that's out of the way, I want to read this book so badly! It's Anna Banks, and it's fantasy. I want it already. But besides that, the premise sounds great. One of my favorite middle-grade series, The False Prince, dropped the ball on the novels when the main character started to rule the kingdom. I wanted a lot more from the stories, but there wasn't much to see a similar scenario. Most of all, I'm looking forward to the way that Tarik deals with struggling to control his kingdom while falling in love with Sepora. It'll be difficult to juggle the pacing of both plots at the same time, but I have no doubt that Anna can execute it perfectly.
When I saw the release date:

If you're having your own kermit flail moment right now, there are links below to follow Anna and add Nemesis to Goodreads! Anna just happens to have tweets that are a mixture of enlightening, strange and hilarious. Follow her!
Find Nemesis: Website Ξ Facebook Ξ Twitter Ξ Add Nemesis to Goodreads Ξ