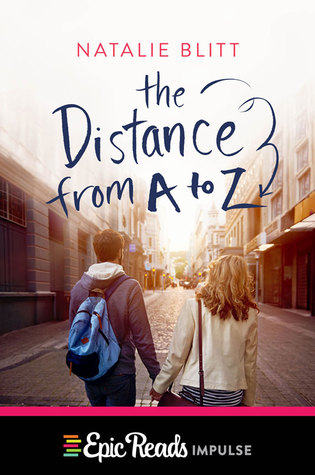 This full-length novel by debut author Natalie Blitt is a pitch-perfect blend of Stephanie Perkins and Miranda Kenneally that proves the age-old adage: opposites attract.
Seventeen-year old Abby has only one goal for her summer: to make sure she is fluent in French—well, that, and to get as far away from baseball and her Cubs-obsessed family as possible. A summer of culture and language, with no sports in sight.
That turns out to be impossible, though, because her French partner is the exact kind of boy she was hoping to avoid. Eight weeks. 120 hours of class. 80 hours of conversation practice with someone who seems to exclusively wear baseball caps and jerseys.
But Zeke in French is a different person than Zeke in English. And Abby can't help but fall for him, hard. As Abby begins to suspect that Zeke is hiding something, she has to decide if bridging the gap between the distance between who she is and who he is, is worth the risk.
Description taken from Goodreads.
---
THE DISTANCE FROM A TO Z.
Can we just talk about the whole using the alphabet as a metaphor thing for a second?
It was perfect for this book, and I loved every time it came up throughout the story because it represented exactly what Zeke and Abby were going through at the time. Though their relationship sees lots of ups and downs, the alphabet doesn't lie. :3
Speaking of Abby, oh Abby. I have so many feelings about her.
When it comes to baseball, she can be pretty judgmental and childish. She swears off everything remotely related to baseball, and she immediately hates anyone who enjoys the sport. It's not a joke, and it's not an act. She actually judges the quality of people based on what they think about baseball. Personally, I think that's silly and it bothered me throughout the entire book.
However, I also thought that Abby was a hard worker determined to do whatever it took to reach her goals. While part of me believes that the whole loving French thing was a bit contrived and over-done, I was mostly just happy to find another book about a teen who is passionate about something and is actively pursuing it. For the most part, I enjoyed her character and reading her POV.
Then there's Zeke. I didn't quite understand Zeke throughout this story. At times, he was sweet and great. At others, he was rough and standoffish. And what's with him being with so many other girls all the time? This is one thing, when not addressed, is just confusing and unnecessary. I ended up liking him in the end. Throughout the story, there's one constant to him: he's supportive. I really liked that about him, and I came to love Abby and Zeke as a couple.
And by the way, this is a slow-burn, so prepare to suffer.
When it came to minor and supporting characters, there were many disposable ones, which I didn't understand. There's a boy (whose name I can't even remember now, he was that forgettable) who showed up in the beginning maybe… twice? Yeah, he made the book seem like it was going to be a love triangle until I got to the middle and I realized he wasn't there for any real reason.
This wasn't necessarily a bad thing, especially because there were characters like Colin and Alice, who come to be Abby's best friends at this school. Colin is the best. He's funny and cool and he shares completely platonic relationships with Abby and Alice. I loved reading his segments and getting to know him.
He's the perfect nonboyfriend: always there, always remembering what's going on in my life, always ready to try something new.
And then there's Alice. Often times, friendships in YA tend to break down. A lot. They serve as simple ways to bring in more drama, and there's no real, deep friendship there. There's talking about the past, there's talking about how things aren't the same, there's talking about happy times, and there's a time and place for that, but I was so happy that Alice and Abby had a wholly positive relationship throughout this book. They're constantly there for each other, supporting each other all the time, helping each other past personal obstacles, encouraging each other and being proud of one another. This is the kind of friendship that needs to be shown in YA, and I loved the way their relationship worked into this story.
There aren't a whole lot of books in which another language plays an active role, so that was cool to see as well. Natalie did a fantastic job of translating the French within the story without having a bunch of parts that were formatted the same way. I liked the way she approached certain difficult sections when Abby was flustered or didn't know what to do.
Here's the thing: I don't really love drama in contemporary. I enjoy two types of contemporary: solid, gritty, make-you-question-your-entire-life contemporary and completely fluffy contemporary. This falls into a category that is not one of those two, and that's drama. Drama isn't for me, but I know a lot of people enjoy it, so I counted it into my rating but don't be dissuaded from trying this book because of that.
3 stars.