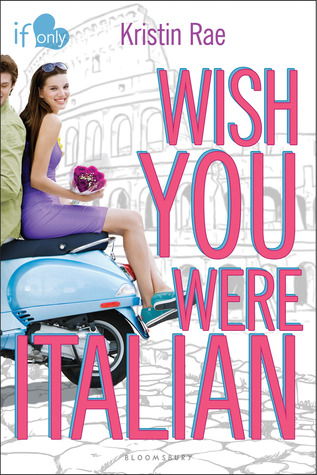 Pippa has always wanted to go to Italy … but not by herself. And certainly not to sit in art school the entire summer learning about dead guys' paintings. When she steps off the plane in Rome, she realizes that traveling solo gives her the freedom to do whatever she wants. So it's arrivederci, boring art program and ciao, hot Italian guys!
Charming, daring, and romantic, Bruno is just the Italian Pippa's looking for—except she keeps running into cute American archeology student Darren everywhere she goes. Pippa may be determined to fall in love with an Italian guy … but the electricity she feels with Darren says her heart might have other plans. Can Pippa figure out her feelings before her parents discover she left the program and—even worse—she loses her chance at love?
Description taken from Goodreads.
---
I can't stand this book.
Okay, it doesn't epitomize everything wrong with YA lit and clueless Americans behaving badly in other countries like some other books, but it's just irritating. 
If you don't take this book too seriously (and with a title like that, how can you?) then I can see it being a cute, fluffy, travel-based kind of book. But I wanted to take this story seriously, so I ended up having to ask these kinds of ridiculous questions:
Does this mean that there are no ugly Italians?
Is Pippa the stupidest person alive or just an average teenager?
Where can I buy one of these flawless best friends who lives for you?
Is Pippa acting like she's a five year old for a reason?
Are 99% of love triangles from hell or are 100% of love triangles from hell?
Is it okay to mooch off of the relatives of someone you just met for money?
What kind of parents would let their teenage daughter go alone to Europe?
Is this an if only situation or is this a pettiness situation?
Pippa's not even Italian so WHY DOES IT MATTER IF HE'S ITALIAN?
All I can say about the whole parental situation is that if the real world was like YA lit, no one would ever have parents. Everyone's parents would perpetually live on a whole other planet.
This wasn't a solid contemporary by any means, but I did love the friendship that Pippa develops with Chiara, a girl that Pippa meets. Chiara's family was also awesome, and while I enjoyed the initial relationship between Pippa and Bruno, it all quickly descended into madness.
If you're looking for a light, fluffy read set in Italy, this is for you. If you just don't think about it too much and go with the flow, or if you enjoyed 13 Little Blue Envelopes, I would recommend this one for you. The moments where Pippa was discovering Italy were the only scenes that I consistently enjoyed. After all, descriptions of gelato.
I think yes.
1.5 stars.
Series: If Only… #2
I am reading this for the Around the World 2016 Challenge! To learn more about it, read my introductory post!