The Mondays Musts is a feature by Jessica @ Lovin' los Libros! Every Monday, you post about your must read, must listen and must watch.
Must Read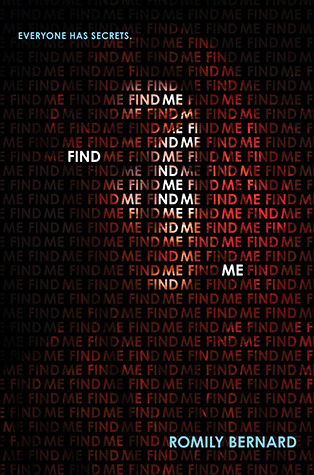 Find Me by Romily Bernard – Add to Goodreads – My Full Review
Books about hacking and coding are a growing friend in YA lit right now, which is amazing–
–but among them, Find Me is one of the only ones that has truly impressed me. It perfectly meshes the story with the hacking/coding side of it, and it has some moral ambiguity to make things very interesting. Trust Me, the final book in the trilogy, came out on March 22nd and I'm can't wait to read it! <3_<3
---
Must Listen
I developed a love for the Late Late Show's Carpool Karaoke lately, and the one with Sia is my favorite. She's a fantastic singer, and hearing her and James together was great. Technically this is a Must Watch as well, but their rendition of Elastic Heart is flawless.
---
Must Watch
Though admittedly not as much as some of the SYTYCD-enthusiast book bloggers on Twitter, I really enjoy So You Think You Can Dance. During seasons 7 and 8, the show was my favorite non-cartoon show, and season 9 was golden too. I stopped watching it after the end of 9, but I have periods of time where I can watch the reruns for hours. This one is always one of my favorites.
Did you do a Monday Musts for this week? Leave a comment below and I'll be sure to check it out!