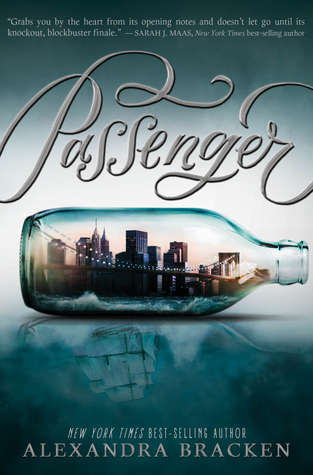 Passage, n.
i. A brief section of music composed of a series of notes and flourishes.
ii. A journey by water; a voyage.
iii. The transition from one place to another, across space and time.
In one devastating night, violin prodigy Etta Spencer loses everything she knows and loves. Thrust into an unfamiliar world by a stranger with a dangerous agenda, Etta is certain of only one thing: she has traveled not just miles but years from home. And she's inherited a legacy she knows nothing about from a family whose existence she's never heard of. Until now.
Nicholas Carter is content with his life at sea, free from the Ironwoods—a powerful family in the colonies—and the servitude he's known at their hands. But with the arrival of an unusual passenger on his ship comes the insistent pull of the past that he can't escape and the family that won't let him go so easily. Now the Ironwoods are searching for a stolen object of untold value, one they believe only Etta, Nicholas' passenger, can find. In order to protect her, he must ensure she brings it back to them—whether she wants to or not.
Together, Etta and Nicholas embark on a perilous journey across centuries and continents, piecing together clues left behind by the traveler who will do anything to keep the object out of the Ironwoods' grasp. But as they get closer to the truth of their search, and the deadly game the Ironwoods are playing, treacherous forces threaten to separate Etta not only from Nicholas but from her path home… forever.
Description taken from Goodreads.
---
There's no doubt that Alexandra Bracken is a phenomenal writer, but I would tentatively say that this time travel is not one that would generally appeal to people who like contemporary romance.
Despite the fact that it's not high fantasy, it's very much fantasy, and hundreds upon thousands of the words within it are dedicated to world-building and making it all believable. It's not nearly as exhausting as Cristin Terrill's All Our Yesterdays pace-wise, there were some parts that I thought were overdone, and I love description. I ended up skimming whole scenes because they're weren't relevant to the plot at all.
Other than that, Passenger is a great book, one of the best about time travel in recent memory. I loved the snippets that included pirates and traveling, and the adventure was executed perfectly. I wasn't so much a fan of all the talking that went on with Grandfather and the girl who grows to be Etta's frienemy, Sophia. While I really enjoyed the relationships here, I thought there was far too much dialogue and reiterated points.
But on the topic of relationships, Etta's relationship with Sophia, and even the romance, was great. I don't really enjoy Nicholas and Etta together, and I think part of that is Bracken clearly has the romance as a sub-plot, but I'm excited to see where things will go in the second book.
As for Sophia, I was surprised by the kind of relationship that Bracken is able to show in Passenger without making it dramatic and without pulling it out of the subplot category. Sophia and Etta aren't friends. They aren't even really allies. But I would say that by the end of the book, they care about each other, even though they're very different and both strong in their own ways.
When it comes to Etta, I really wished that I could see someone like Kestrel appear through her. That didn't really happen. Maybe it was because she was a violinist from another time, but Etta tries just as hard as everyone else in fantasy right now in order to be that strong, confident, let-me-have-my-way girl.
Everyone trying to be the same thing is irritating. Trying to remake Katsa from Graceling isn't going to happen. Trying to remake Katniss from The Hunger Games isn't going to happen. It's the same exact thing with Hazel from The Fault in Our Stars, Celaena from Throne of Glass and Adelina from The Young Elites. I suppose that's why Kestrel was so special, and maybe even hoping for another Kestrel is hypocritical, but I thought that Etta could be different. In reality, I wasn't able to truly see her as her own person. Bracken made multiple attempts to flesh her out, and I appreciate that, but she was never real to me. But that's probably one of the instances of it being me and not the book.
Overall, Passenger was a great time travel story that I will be recommending, but not to everyone. For most diehard YA fans, it will most likely work out, but if you need fast paced reads, this is not for you. 3.5 stars.
pg count for the hardback: 486
Series: Passenger #1