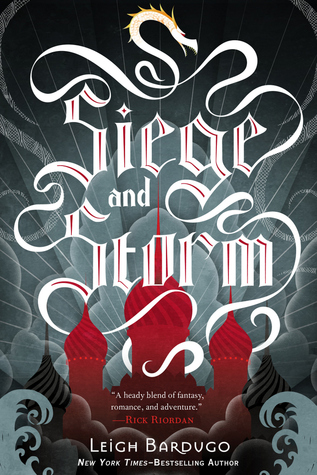 Darkness never dies.
Hunted across the True Sea, haunted by the lives she took on the Fold, Alina must try to make a life with Mal in an unfamiliar land. She finds starting new is not easy while keeping her identity as the Sun Summoner a secret. She can't outrun her past or her destiny for long.
The Darkling has emerged from the Shadow Fold with a terrifying new power and a dangerous plan that will test the very boundaries of the natural world. With the help of a notorious privateer, Alina returns to the country she abandoned, determined to fight the forces gathering against Ravka. But as her power grows, Alina slips deeper into the Darkling's game of forbidden magic, and farther away from Mal. Somehow, she will have to choose between her country, her power, and the love she always thought would guide her–or risk losing everything to the oncoming storm.
Description taken from Goodreads.
---
I'm going to stick to the unpopular opinion side here and say that while Siege and Storm was more complex than Shadow and Bone, it wasn't better. I appreciated Siege and Storm, but I loved Shadow and Bone. I thought it was complex and beautifully written and just everything. 
Siege and Storm was beautifully written, per the usual for Leigh Bardugo, and the characters became even more in-depth.
I disliked the ways that some of them went, and I enjoyed others, but I really loved the way that Bardugo scattered such huge themes of moral ambiguity throughout this novel. I changed opinions numerous times, and by the end, I decided that I did like Mal, and I did dislike the Darkling, but they weren't wholly dislikable or likable people.
Mal is insecure and, for the most part, insignificant. I felt so bad for him because Alina kept on making her own choices without once thinking of him, and he did everything for her, but that said a lot about Mal's personality. I liked getting to know him better, even though I saw a whole new (and by new I mean spineless) side to him in Siege and Storm.
Sturmhond was, by far, my favorite character. The twins introduced in this book were second, but Sturmhond managed to be morally ambiguous without giving me a headache. He was a fun character who managed to be responsible and believable. I loved what he brought to the story, and the time on his ship was my favorite part of the book.
Then there was Alina. Oh, Alina. Self conflict and bad decisions are the only words I can use to describe her in this book. She tries to do well, but ends up having half-baked opinions and tries her best but fails every time.
Finally, the oh-so-treasured Darkling. Honestly, I don't know why people love him so much. He was the least interesting character for me, and his depth was limited because the same points were reiterated over and over again. Yes, he's got some semblance of moral ambiguity, but other characters accomplished that theme much better.
Overall, I'm not sure I want to continue with the series. The plot was great, and I loved the tension, but I couldn't bring myself to enjoy everything the way I had in the first book. I loved Shadow and Bone, and I don't want to ruin the memory of that book with a not-so-great conclusion. I think I may if only for the sake of finding out what happens to the characters, but if you're not sure about continuing on after Shadow and Bone, I wouldn't recommend it. 2 stars.
pg count for the hardback: 435
Series: The Grisha #2