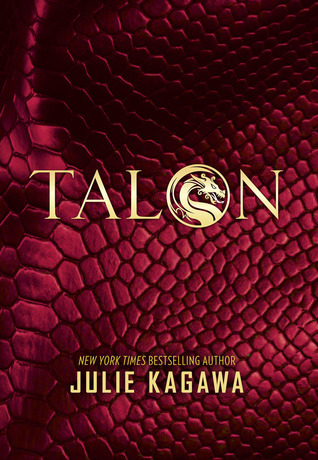 Long ago, dragons were hunted to near extinction by the Order of St. George, a legendary society of dragon slayers. Hiding in human form and growing their numbers in secret, the dragons of Talon have become strong and cunning, and they're positioned to take over the world with humans none the wiser.
Ember and Dante Hill are the only sister and brother known to dragonkind. Trained to infiltrate society, Ember wants to live the teen experience and enjoy a summer of freedom before taking her destined place in Talon. But destiny is a matter of perspective, and a rogue dragon will soon challenge everything Ember has been taught. As Ember struggles to accept her future, she and her brother are hunted by the Order of St. George.
Soldier Garret Xavier Sebastian has a mission to seek and destroy all dragons, and Talon's newest recruits in particular. But he cannot kill unless he is certain he has found his prey: and nothing is certain about Ember Hill. Faced with Ember's bravery, confidence and all-too-human desires, Garret begins to question everything that the Order has ingrained in him: and what he might be willing to give up to find the truth about dragons.
Description taken from Goodreads.
---
There's no way.
This cannot possibly be by the same author who wrote the Iron Fey series. I just… I can't…
There are so many things wrong with this book. The first in the extensive list is Ember herself, who not only wins the award for the most contrived character I've read this year, but also feels like she belongs as the star of the next average 2016 middle-grade novel.
She's immature, ridiculous and in no way belongs in YA lit. She's hot-tempered, makes stupid decisions and is, overall, nauseating to read about. And because of all this, the guys love her.
And then we get to the supporting characters, including the love interest and Ember's twin, and they aren't much better. In fact, for the most part, they're worse. The friends that Ember makes are shallow and appear like the popular girls in a Disney Channel movie. As for Ember's twin, he's hardly mentioned throughout the first half of the book, and by the point where he started actually making an appearance, I knew exactly how the book was going to end.
I mean–appearance of a "rogue"? The twin who is just randomly there and never makes an appearance? What explains him? There were only so many ways it could go, and I still managed to be disappointed by this amazing author who deserves to write ALL THE GOOD THINGS.
The love interest, Garret, was the only one who had hope, and even he was ruined by the Ember Hill trap. (And seriously, if you're trying to hide the fact that you're a dragon, why would you have the name EMBER HILL??)
When he wasn't busy with Ember, he was busy thinking about Ember. Garret is great. Really, he is. But he ignores what he blatantly knows: Ember Hill is a dragon. He suspects it from day one and delays forever because she doesn't seem like a dragon and she's a twin. His partner even says that there are exceptions to rules, and still he continues on.
The plot was the last straw. I expected it to be this fantastical thing with dragons, yeah! But then it turned out to be another romance. Dragons just happen to be included.
I won't lie: I was massively disappointed by this story. The narrative was pretty bad because it was all in either Ember or Garret's voices. The plot completely fell through. I didn't enjoy any of the characters. I wanted to love this one, but I couldn't. Maybe I'll try the Immortal Rules next? Whatever the case, I won't be recommending this one. You want a real dragon read? It's not as YA, but Dragon Keeper is a real winner. 1 star.