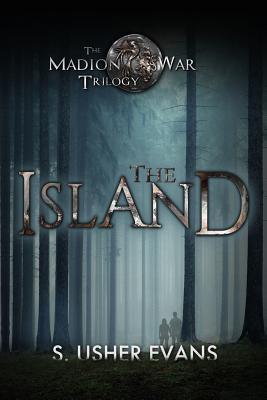 Title: The Island by S. Usher Evans
Author: S. Usher Evans
Add to Goodreads Ξ Buy

Prince Galian is third in line to the throne, but prefers his place as a resident at the Royal Kylaen Hospital. When his father urges him to join the military to help reclaim their colony, Galian is forced to put aside his oath to Do No Harm and fight a war he does not believe in.
Across the great Madion Sea, Captain Theo Kallistrate dreams of a day when she is no longer bound by conscription to fight for her country's independence. But when the Kylaens threaten, honor and duty call her to the front lines to fight off the oppressors.
When an air skirmish goes wrong, both Theo and Galian crash on a remote island hundreds of miles from either nation. Grievously injured, Theo must rely on Galian's medical expertise, and Galian must rely on Theo's survival skills, to live another day in a harsh and unforgiving terrain.
Can they put aside their differences long enough to survive? Or will the war that brought them to the island tear them apart?
---
This book sounds amazing! It's nice to see the pirates/military/airships trend come into YA, and I've been meaning to try S. Usher Evans' books. If you're excited about this book as well, or even if you need more information about it in order to try it, there's an excerpt and giveaway below!
Excerpt
I knew what he was going to say before he said it.
"We're out of food."
I nodded, rubbing my hands in front of the small fire to warm up.
"We're going to die here, aren't we?" he whispered weakly.
The sudden lack of food seemed to have panicked him. Can't say I blame him; if I'd grown up in a castle with glittering buffets every night, I would be concerned after the first day of without food as well.
"You don't think they're coming for you?" I asked, instead of answering his question. "You're a prince of Kylae."
It was his turn not to answer my question, as his face turned upwards toward the sky. There was obviously something he didn't want me to know, but it was etched all over his face. He thought the plane yesterday was a fluke. For some reason, he felt the Kylaen forces weren't searching for him.
As well as that boded for my survival chances, it wasn't good news for our non-existent supplies.
"Then I suppose we should start setting some traps," I said, cutting the silence between us.
"Traps?"
"For food."
"O…okay." He nodded dumbly but didn't move.
"We need to search for better shelter," I said. "Which means I'll have to stay here and set traps while you—"
"I won't even know what to look for, Theo."
It was clear how far he'd sunk into despair. I needed him to be lucid, as eager to live as I was. With a grimace, I forced myself into Captain Kallistrate. He was just another of my lieutenants, green and scared.
"We have everything we need," I said. "We just need to think rationally—find shelter, trap some food."
"What's the point?"
"Galian." It was the first time I had ever used his name, and it got his attention. "I know it looks bleak, but I've been through bleaker situations, and I'm still here. You and I wouldn't have survived the crash just to die here, all right? I don't think God has such a sick sense of humor."
He swallowed and looked at the ground, regaining some of his color. "I didn't take you for a spiritual person, Theo."
"I…" I looked away. "I have to believe that there's something out there that's in control here. Because why would we survive a crash and," I chuckled, "survive each other just to die here? It doesn't make sense."
"Do you really believe that?"
"I believe that right now we can't focus on what might or might not happen. These are the facts of the situation—we need to eat and we need shelter. Once we get those two things figured out…then we can think about the rest of it."
The smallest of laughs rumbled in his chest. "So which do you want to do first, Captain?"
My stomach growled, answering his question.
About the Author
Usher Evans is an author, blogger, and witty banter aficionado. Born in Pensacola, Florida, she left the sleepy town behind for the fast-paced world of Washington, D.C.. There, she somehow landed jobs with BBC, Discovery Channel, and National Geographic Television before finally settling into a "real job" as an IT consultant. After a quarter life crisis at age 27, she decided consulting was for the birds and rekindled a childhood passion for writing novels. She sold everything she owned and moved back to Pensacola, where she currently resides with her two dogs, Zoe and Mr. Biscuit.

Evans is the author of the Razia series and Empath, both published by Sun's Golden Ray Publishing.
Giveaway
Thanks so much to Nori and S. Usher Evans for this great SST! Make sure to check out all the other tour posts as well. What do you think of The Island?