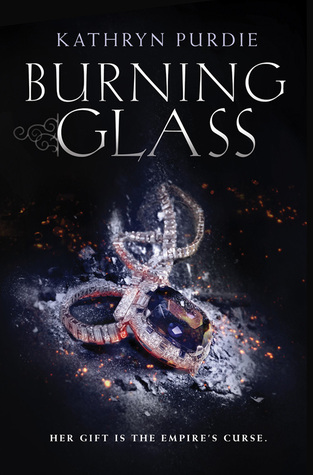 Sonya was born with the rare gift to feel what those around her feel—both physically and emotionally—a gift she's kept hidden from the empire for seventeen long years. After a reckless mistake wipes out all the other girls with similar abilities, Sonya is hauled off to the palace and forced to serve the emperor as his sovereign Auraseer.
Tasked with sensing the intentions of would-be assassins, Sonya is under constant pressure to protect the emperor. But Sonya's power is untamed and reckless, and she can't always decipher when other people's impulses end and her own begin. In a palace full of warring emotions and looming darkness, Sonya fears that the biggest danger to the empire may be herself.
As she struggles to wrangle her abilities, Sonya seeks refuge in her tenuous alliances with the charming-yet-volatile Emperor Valko and his idealistic younger brother, Anton, the crown prince. But when threats of revolution pit the two brothers against each other, Sonya must choose which brother to trust—and which to betray.
Description taken from Goodreads.
---
Maybe I jinxed it, because I haven't truly loved a single book on my 16 most anticipated reads of the year list so far, and I've read four of them. So far, my favorite is Meg Leder's debut, the Museum of Heartbreak, my review for which will be coming out closer to the release date. The Distance from A to Z was pretty great as well.
But this one, oh, no.
I don't even know how to begin to describe the sheer disappointment I felt as I was reading this novel. It was a rollercoaster that only went down and kept on going down until it popped out on the other side of the world.
Because I have to admit, that ending was not bad at all. I was somewhat satisfied after I read it.
It wasn't worth going through though, to be completely honest. The first half of the book was all bad. I tried and stopped trying to sympathize with Sonya. Yeah, I get it, she has a power that makes herself difficult to control. Having a difficult power doesn't give a person license to be carefree, and for everyone around her to be ignorant.
After Sonya manages to brilliantly kill every other person with her power, the people in charge decide to put her volatile self right next to the king of the kingdom.
There were elements to this story that I liked, but the narrative and the pacing kept on throwing me off. When the book wasn't being boring and Sonya was laying low, there were parts that were brilliantly written in a way that would only work for this story.
For one thing, the villain.
This villain caught me completely off guard because he came out of nowhere from the blurb. Sonya's powers make him powerful (not literally, it's hard to describe), and enhance his ability as a villain. I loved reading about him in a literary sense, though in a personal sense I hated him.
Let's be honest here: 99% of the plot is romance.
So without further ado, Anton. If Anton had his own book, I would be open to reading that. He was the only character I enjoyed throughout the story. He was important and shocker, he had his own life. His world doesn't revolve around Sonya, and his opinions aren't so drastically changed by her.
I appreciate that.
I can't recommend this one, despite how much I enjoy Anton and how much I wanted to revisit his brother. It's too much romance, not enough fantasy. It has a whiny, weak heroine and some of the most cliché characters I have ever read. I love Kathryn, and I would be open to seeing what she writes in the future, but this one really was not for me. If you don't enjoy love triangles, cardboard characters and romance-dominating fantasy, then there are much better books to be read than this.
1 star.
This book was one of my most anticipated reads of 2016.
pg count for the hardback: 512