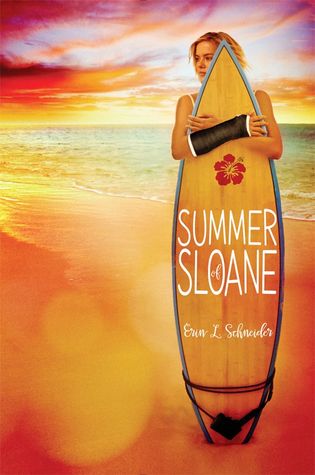 Title: Summer of Sloane
Author: Erin L. Schenider
Add to Goodreads

Warm Hawaiian sun. Lazy beach days. Flirty texts with her boyfriend back in Seattle.

These are the things seventeen-year-old Sloane McIntyre pictured when she imagined the summer she'd be spending at her mom's home in Hawaii with her twin brother, Penn. Instead, after learning an unthinkable secret about her boyfriend, Tyler, and best friend, Mick, all she has is a fractured hand and a completely shattered heart.

Once she arrives in Honolulu, though, Sloane hopes that Hawaii might just be the escape she needs. With beach bonfires, old friends, exotic food, and the wonders of a waterproof cast, there's no reason Sloane shouldn't enjoy her summer. And when she meets Finn McAllister, the handsome son of a hotel magnate who doesn't always play by the rules, she knows he's the perfect distraction from everything that's so wrong back home.

But it turns out a measly ocean isn't nearly enough to stop all the emails, texts, and voicemails from her ex-boyfriend and ex-best friend, desperate to explain away their betrayal. And as her casual connection with Finn grows deeper, Sloane's carefree summer might not be as easy to find as she'd hoped. Weighing years of history with Mick and Tyler against their deception, and the delicate possibility of new love, Sloane must decide when to forgive, and when to live for herself.
---
Because the good and the bad of this book were so different, I'm going to try something new with this one and split them up.
The Good:
Most of the supporting cast. The Hawaii crew in this book were nuanced and fun to read about. I loved Mia, Shep and Luce as Sloane's friends. I wasn't entirely sure why Ashley was there. She didn't really add to the book, but that wasn't something I was bothered by. I did wonder if she was necessary, but the other supporting characters made up for her. Mia are cute together, and I've come to enjoy seeing relationships between the supporting characters.
By far, my favorite supporting character was Penn, Sloane's brother. He was somewhat one-dimensional, but he was also funny, supportive and a great brother to Sloane.
The themes. Personally, I think forgiveness is really important, and it's nice to see that in a YA novel (for once). So much emphasis is placed on revenge, but what Summer of Sloane tries to focus on is that Sloane actually misses the people who betrayed her. It's not so black and white how she feels about what happened, and I appreciated that.
I go into this more in detail in the didn't like section, unfortunately, but I liked that these themes were present. From the beginning, this isn't just a story about love, but also one about Sloane struggling to forgive and wondering if she even should.
The main characters! Yes, thank you for this! So many of the main characters that I've read recently have been unlikable or generally irritating or hard to sympathize with. That's great. I love gritty fiction, and I enjoy reading about tough issues, but there's a time and a place for that.
Sometimes you just need to read a contemporary that isn't tragic, and Summer of Sloane is perfect for that. It's a great beach read, but it should be known that the amount of partying and underage drinking in this book is almost ludicrous. But hey, I'll takes s'mores of this book :D
But actually getting into the characters.
When I say Sloane is likable, I don't mean she's one of those people that's easy to like. She has her faults, her weaknesses and her strengths. I go into the narrative more in the section below, but as a person, I liked Sloane. Her thoughts and feelings were realistic, and she was an overall good heroine. I loved her support of other people, especially Luce, and the way she went about treating others.
Finn is one of those guys who will be liked by the blogging community, but was pretty much just normal for a YA book. He was sweet, and I liked his relationship with Sloane. There's sarcasm and flirting that gets thrown around, and he's fun to read about. But, like Penn, he didn't seem particularly real or multi-dimensional.
The Bad:
What's up with the descriptions? I know this sounds weird, but this book has some sort of obsession with skin and how people look. It's okay to trust the reader sometimes! I don't particularly care how tanned someone is or isn't, or how dark or how light it is. It doesn't add to the story at all. I get it for maybe one or two characters, but everyone is introduced this way.
Too many petty characters. This one speaks for itself, but there were so many names with no faces to them. Too many inconsequential characters were introduced too quickly. I liked who I knew, but otherwise, it was all sort of a mesh.
Resolution. The resolution toward the end of this book was good. It was deserved after a long period of turmoil. While it was what I was expecting, the execution was all wrong. This is partly due to the cheesy narrative, and also just Sloane's way of making things better. I was mad at Tyler and Mick for the way that they tried to force Sloane to forgive them. I wasn't so impressed by all of it, and part of me felt like it was a cop-out.
Overall, not a bad book. I enjoyed the overarching plot, and it was great to see certain themes branching into YA. There were moments where I was thrown off guard because of the cheese or try-hard bits like the whole skin thing. I do think this would be a great beach read and one I'll be revisiting. 3 stars.
About the Author
Erin L. Schneider is native to the Pacific Northwest, attended college in Honolulu – and although Hawaiian – should never be allowed on a surfboard. With more than twenty years in corporate merchandising, she's now a full-time writer living in Seattle with her husband, Neal; their baby boy, Kellan; a rowdy German shepherd named Ronin; and two crazy cats, Ono and Poke. She's a member of both the Pacific Northwest Writers Association and SCBWI, and is also co-founder of the YA Buccaneers.

SUMMER OF SLOANE is her debut novel, out May 3, 2016 from Disney-Hyperion. Visit Erin online at Erin L Schneider or on Twitter: @ErinLSchneider1.

Erin is represented by literary agent Lisa Grubka of Fletcher & Company.
Giveaway
Thanks so much to Nori and Erin L. Schneider for this great SST! Make sure to check out all the other tour posts as well.