It's Top Ten Tuesday! Top Ten Tuesday is a feature hosted on Tuesdays by The Broke and the Bookish. The theme for today is top ten reasons I love Hayao Miyazaki movies. I have always loved movies that offer something a little different, like independent youth movies, but I also like to focus on directors that really catch me eye too. For the longest time, my favorite director has been Hayao Miyazaki of Studio Ghibli. He's an animator who has directed or been a part of making movies such as Spirited Away; Howl's Moving Castle; My Neighbor Totoro; and Princess Mononoke. Some of his films are pretty niche so you might need to get Pirate Bay proxies here in order to find them, but they're well worth a watch. Some of his work consistently makes it into my top ten whenever anyone asks me for movie recommendations, although he might be an acquired taste.
The music is a huge part of every Miyazaki movie. It's usually done by Joe Hisaishi. Every song is beautiful (though some are, admittedly, more so than others) and it plays in perfectly to the movie. Miyazaki knows just when to use background noise and silence to accentuate the point that he's trying to make. The video above is from the soundtrack of Spirited Away.
---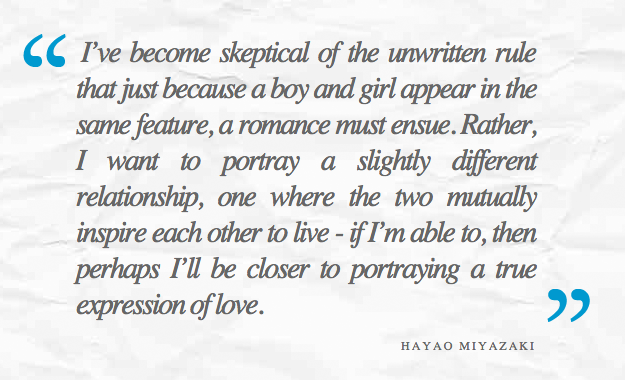 The theology behind Miyazaki's movies and storytelling is incredible and inspiring. This quote alone has changed the way that I view (and attempt to write) relationships in stories. I could fill this entire post with quotes from Hayao Miyazaki, but Buzzfeed already did that and people already have Pinterest boards for that.
---
Ohhhhhhh, the food.
No Miyazaki movie is complete without food scenes. EVERYTHING LOOKS SO GOOD. And yes, Buzzfeed has already done an article on this as well.
---
The design is nothing short of incredible in Miyazaki/Studio Ghibli movies. You don't need to watch The Kingdom of Dreams and Madness in order to see the amazing level of intricacy in their work. Everything down to the smallest detail is considered. Every single frame is hand-drawn.
Yeah.
You can learn more about this in this article.
---
The plot in these stories aren't as complex as the ones in Disney and Pixar films, but they're just as deep, poignant, and relevant. Going back to Miyazaki's theology in creating his stories, he creates relationships that you don't typically see in movies, least of all children's movies. And how common is it that the journey is just as satisfying at the ending? Miyazaki manages to create this in most, if not all, of his movies, and get this: he doesn't even plot.
---
The character development in these movies is present in almost every character. In some small way, each named person is influenced by what has occurred in the film. I hate to continue using Spirited Away, only because Miyazaki has so many other great films as well, but the change in the main character, Chihiro, is the most dramatic throughout his movies. In the beginning, Chihiro is a whiny little girl who's scared to start a new life in a town. Even though it's hard, she becomes someone who is brave, strong, and not afraid to face the unknown.
---
Although Miyazaki has produced and directed tons of movies, each of his movies is unique in it's own way. They span a wide variety of characters, genres, and ideas. They all do have similar themes, but they all bring something new to the table. You want diverse princesses? How about Egg Princess? Or maybe the daughter of the ocean would be a better fit. Or a girl who doesn't want to marry a cat, the "devilishly handsome" Prince Lune, prince of the Cat Kingdom.
You get the gist.
---
The action in these movies is great as well. They're not just deep and insightful. They're also exciting, with fights, pirates, bounty hunters, outlaws, and mystical creatures around every corner.
---
The humor in these movies isn't always apparent, but it's there. There are some truly great moments of dialogue and wit, and the interactions between the characters are very well-done. Our heroes get into every situation imaginable, with any character you can dream up.
---
Not every bad guy is redeemable, but these movies sure try their best to see the good in others. So many of the people portrayed as villains or traditional bad guys are actually people who are caring. They have their own hopes, dreams, goals. They're real. The most obscure characters become the friends of our heroes and heroines, and it's amazing to see them all work together.
---
Did you do a TTT? Link it below and I'll be sure to check it out!