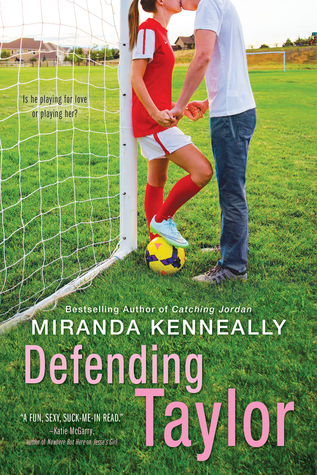 Captain of the soccer team, president of the Debate Club, contender for valedictorian: Taylor's always pushed herself to be perfect. After all, that's what is expected of a senator's daughter. But one impulsive decision—one lie to cover for her boyfriend—and Taylor's kicked out of private school. Everything she's worked so hard for is gone, and now she's starting over at Hundred Oaks High.
Soccer has always been Taylor's escape from the pressures of school and family, but it's hard to fit in and play on a team that used to be her rival. The only person who seems to understand all that she's going through is her older brother's best friend, Ezra. Taylor's had a crush on him for as long as she can remember. But it's hard to trust after having been betrayed. Will Taylor repeat her past mistakes or can she score a fresh start?
Description taken from Goodreads. I received an advance copy of this book, to be released July 5th, 2016, in exchange for an honest review. These opinions are my own.
---
Recently, there's been an influx of books about teens who aim to go to top-tier colleges and are "shoe-ins to get in".
Here's my usual problem with that: it's not that easy.
99% of books like that completely underestimate what it takes to get in. The protagonists of these novels have way more time than they should, and they spend it doing ridiculous and irrelevant things. It's insulting, and it's not an accurate portrayal of how much time, energy and effort is spent going from sports to school to homework to events to volunteering to everything else.
I'm not saying it's not fun. It is, very much so, especially because volunteering in something you're passionate about is one of the rewarding things you can do.
I'm just sick of reading books that don't take the time to accurately portray a phenomenon if indeed they are trying to write about that lifestyle or those goals. Defending Taylor actually did a pretty good job of maintaining the story and keeping up Taylor's image of a Yale-bound teenager, especially in the beginning. The one thing that threw me off was Taylor's 1520 SAT score.
1520 out of 2400, assuming Taylor took the SAT between 2005, when it last changed, and March 2016, when it reverted back to 2400.
If that assumption is correct, 1520 isn't a great SAT score, despite what everyone in this book says as they ooh and aww over her transcript. According to Yale's website, for reference, SAT scores ranges (from the 25th percentile to the 75th) are 2140 to 2390.
In terms of the other ways academics play into this novel, I thought the ending was realistic and I was relieved to know that Taylor was pragmatic about her choices. I also loved the way that Kenneally portrayed Taylor's difficult switch from private to public school and her observations about how things are different.
Moving on, all there is to say about the romance is that it's instalove. Taylor makes a poor attempt at keeping away from boys. Yeah, that doesn't really happen. On the bright side, the guy she falls for is one she's known for a long time and the romance after it starts is pretty great. Taylor and Ezra are great together, despite the fact that I wished they spent more time talking and working their issues than kissing.
And of course, it wouldn't be a Kenneally book if it didn't have supporting characters who shine. As much as I disliked them at times, Taylor's family was realistic and they still loved her despite everything that went on. They supported her as much as they could, and I appreciated her family throughout this entire book. I especially wanted to see more of Taylor's siblings, Oliver and Jenna.
Also of course, it wouldn't be a Kenneally book if it didn't have an agenda. Like her other stories, Kenneally thinly veils her opinion on controversial issues throughout Defending Taylor. While I didn't always agree with her and I didn't appreciate it, the overall plot was good.
Except… nothing really happened. It went around in circles until the end. Admittedly, they were entertaining circles, but circles nevertheless.
Most of the plot correlated directly to the romance or the pills that Taylor's caught with.
Taylor does struggle with the aftermath of being caught with a bunch of pills, but it doesn't really go anywhere except the shame and disapproval she feels from all sides after the event. This was good, but got boring after awhile.
The story does go through and explain why the pills are such a big deal, and it's not a fairy tale ending. It's pretty bad, actually. A lot of things go wrong because of Taylor's mistakes, and I thought that was good to see in a world where most YA novels end up all pretty and packaged neatly. Taylor does learn from her mistakes though, and she grows closer with her family as a result of all that's happened.
All in all, this wasn't the book for me. It was far too focused on the romance and characters that I didn't particularly come to love. Jesse's Girl and Catching Jordan remain my favorites, and I would probably only recommend this to people who are fans of Kenneally's other novels, particularly Stealing Parker. 1.5 stars.
***For those of you who are wondering, most of the previous stars of the Hundred Oaks novels don't appear in this one. Toward the end, Jack from Racing Savannah pops up, but almost nobody else does.
Series: Hundred Oaks companion