As always, it's great to have Paula Stokes on the blog, and this year, she has two amazing books coming out: Vicarious and Girl Against the Universe. But what are they about exactly, and how are they different? All of your questions will be answered below!
Paula: Hi guys! Most of you probably know I just released GIRL AGAINST THE UNIVERSE, a hopeful and

funny contemp YA about working through anxiety and survivor's guilt. But some of you don't know I

have a second book coming out this year, a dark and twisty thriller called VICARIOUS. I did a little

compare and contrast chart for Eli, in case you're wondering how the books are different. If you want

more info, click the links to read the beginning of each book or check out the cover copy pasted below

the chart.
GIRL AGAINST THE UNIVERSE
VICARIOUS
Release date and publisher
 May 17th, 2016; HarperTeen
August 16th, 2016; Tor Teen
Three-word description
Hopeful romantic contemporary
Soul-destroying thriller
 First sentence
There's a thing that sometimes happens in your brain when you've been the victim of a horrible accident.
I can't seem to wide away the blood.
Trope check
You might think there's a mean girl. You might be wrong.
Absentee parents
Main character
Maguire is a 16-year-old girl who has never been kissed.
Winter is an 18-year-old girl who doesn't like to be touched.
 Love interest
Jordy is an 18-year-old junior tennis star who feels like a poseur.
Jesse is a 21-year-old former amy MP who worries about his weight.
Swoon factor
 4 out of 5. It's a slow-burn romance, but it heats up.
2.5 out of 5. Jesse is adorable in places, but this first and foremost a mystery-thriller.
Theme songs

Beautiful Now by Zedd

Titanium by David Guetta and Sia

A Sorta Fairytale by Tori Amos

Chop Suey by System of a Down

Power by Kanye

Radioactive by Imagine Dragons

Author's favorite scene
Maguire has a 2AM conversation with her stepdad that brings the feels in a major way.
Jesse calls Winter out on her self-destructive behavior while he cuddles her cat, Miso.
Author's fave thing about the book
Maguire is not mean or judgy, but every single first impression she has is wrong.
This story has more evocative prose–a challenging departure from my usual voice.
Bonus factors
California burritos, roller coasters, an awesome therapist, Joshua Tree National Park
 Shark-diving, St. Louis, throwing knives, two adorable book pets
Whew! Can't get enough yet? Here's a little bit about each book:
Maguire is bad luck.

No matter how many charms she buys off the internet or good luck rituals she performs each morning, horrible things happen when Maguire is around. Like that time the rollercoaster jumped off its tracks. Or the time the house next door caught on fire. Or that time her brother, father, and uncle were all killed in a car crash—and Maguire walked away with barely a scratch.

It's safest for Maguire to hide out in her room, where she can cause less damage and avoid meeting new people who she could hurt. But then she meets Jordy, an aspiring tennis star. Jordy is confident, talented, and lucky, and he's convinced he can help Maguire break her unlucky streak. Maguire knows that the best thing she can do for Jordy is to stay away. But it turns out staying away is harder than she thought.

From author Paula Stokes comes a funny and poignant novel about accepting the past, embracing the future, and learning to make your own luck.
Description taken from Goodreads. Read my full ARC review here.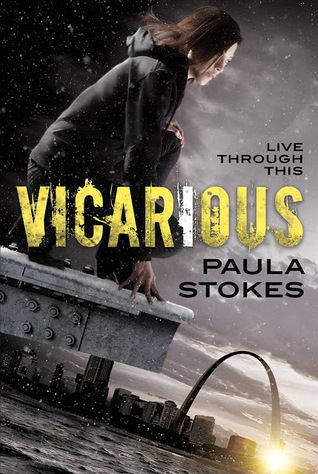 Winter Kim and her sister, Rose, have always been inseparable. Together, the two of them survived growing up in a Korean orphanage and being trafficked into the United States.

Now they work as digital stunt girls for Rose's ex-boyfriend, Gideon, engaging in dangerous and enticing activities while recording their neural impulses for his Vicarious Sensory Experiences, or ViSEs. Whether it's bungee jumping, shark diving, or grinding up against celebrities at the city's hottest dance clubs, Gideon can make it happen for you, for a price.

When Rose disappears and a ViSE recording of her murder is delivered to Gideon, Winter won't rest until she finds her sister's killer. But when the clues she uncovers conflict with the neural recordings her sister made, Winter isn't sure what to believe. To find out what happened to Rose, she'll have to untangle what's real from what only seems real, risking her life in the process.
Description taken from Goodreads. Stay tuned for my review on August 8th!
---
Connect with Paula: Ξ Twitter Ξ Facebook Ξ Website Ξ Goodreads Ξ
Thanks to Paula for coming on the blog, and be sure to add both Vicarious and GATU to Goodreads!