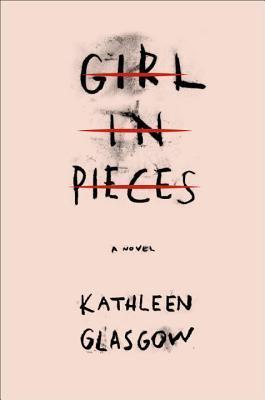 Title: Girl in Pieces
Author: Kathleen Glasgow
Add to Goodreads
Charlotte Davis is in pieces. At seventeen she's already lost more than most people lose in a lifetime. But she's learned how to forget. The thick glass of a mason jar cuts deep, and the pain washes away the sorrow until there is nothing but calm. You don't have to think about your father and the river. Your best friend, who is gone forever. Or your mother, who has nothing left to give you.

Every new scar hardens Charlie's heart just a little more, yet it still hurts so much. It hurts enough to not care anymore, which is sometimes what has to happen before you can find your way back from the edge.
Description taken from Goodreads.
---
Interview
Is there a song that describes Girl in Pieces?
Girl in Pieces actually has a playlist on Spotify! But the song that most influenced me while writing the book, the song that I feel most represents Charlie's way of being, is Kamera, by Wilco.
What do you hope readers will take away from this story?
Girl in Pieces is about a girl learning how to live in the world. Even if you haven't experienced exactly what Charlie has experienced, you will find yourself in the book. This is a book about hope, friendship, art, and finding your path in life.
How did you write the POV of a girl who has gone through so much trauma and is attempting to recover from cutting?
I tried to be honest about what depression and hopelessness feels like, because I've been through that. And I was also aware that no matter how far into the darkness you travel, humor just has a way of happening, so there are funny moments in the book, too.
What is one of your literary bucket list goals?
Well, to sell a lot of books!
Did Girl in Pieces ever go in a direction you didn't expect it to?
Yes! There was a completely different ending at one point (which I won't say, because it would spoil what is now the actual ending). Also, the relationship between Blue and Charlie took on its own life and Blue became someone that surprised even me.
What has been most helpful to you as a debut author?
Meeting so many other writers and listening to their stories and heartbreak and advice. If you are going to live a writing life, you definitely need supportive friends.
What was the hardest part of writing Girl in Pieces?
Taking a leap of faith and writing so honestly, without being sure it would ever pay off.
What's one of the best YA debuts you've read this year?
I've read so many, because I belong to The Sweet Sixteens.  I'll pick one: This Is The Part Where You Laugh, by Peter Brown Hoffmeister. This is a book about male friendship that really killed me, in a good way. It's brave, funny, bold, dark, and true.
About the Author
Kathleen Glasgow lives in Tucson, Arizona. She writes for the radio show The Writer's Almanac and can probably provide you with some interesting anecdotes about historical literary figures if you asked nicely. You can find out more about Kathleen by following her on Twitter: @kathglasgow, Instagram, @misskathleenglasgow (where she posts about sunsets, depression, spirit circles, and books) or her website: kathleenglasgowbooks.com.
Giveaway
Thanks to Nori and Kathleen Glasgow for putting together this tour, and be sure to check out the other stops along the way! If you or someone you know is struggling and needs help, please consider contacting the Crisis Text Line (text START to 741-741), the National Suicide Prevention Hotline (1-800-273-8255), To Write Love on Her Arms, or the National Runaway Hotline (1-800-621-4000).