Recently, I've been going through a major book slump where I'm not loving any of the books I'm reading. It was temporarily broken by Victoria Schwab's This Savage Song (because she's just that great), but other than that, I've had a hard time with the books I'm reading. I figured the easiest way to break it was to just start scrolling through books until I found something that stuck. So far, these are the three I've had the most luck with. My slump still isn't over, but hopefully, it will be soon!
In the enchanted kingdom of Brooklyn, the fashionable people put on cute shoes, go to parties in warehouses, drink on rooftops at sunset, and tell themselves they've arrived. A whole lot of Brooklyn is like that now—but not Vassa's working-class neighborhood.

In Vassa's neighborhood, where she lives with her stepmother and bickering stepsisters, one might stumble onto magic, but stumbling out again could become an issue. Babs Yagg, the owner of the local convenience store, has a policy of beheading shoplifters—and sometimes innocent shoppers as well. So when Vassa's stepsister sends her out for light bulbs in the middle of night, she knows it could easily become a suicide mission.

But Vassa has a bit of luck hidden in her pocket, a gift from her dead mother. Erg is a tough-talking wooden doll with sticky fingers, a bottomless stomach, and a ferocious cunning. With Erg's help, Vassa just might be able to break the witch's curse and free her Brooklyn neighborhood. But Babs won't be playing fair. . . .

Inspired by the Russian folktale Vassilissa the Beautiful and Sarah Porter's years of experience teaching creative writing to New York City students.
Description taken from Goodreads.
---
I don't want to be harsh, but the writing segment I most enjoyed from Vassa in the Night was the blurb. That tells you pretty much everything you need to know about the book.
Ah, Vassa. This book had so much promise and fell completely short. For one thing, it's in that weird place where it's not fantasy and it's not realistic lit and it's not magical realism. It's just there. Everything about the world is awkward. I guess the blurb kind of lends to that. It starts out with "In the enchanted kingdom of…" and then hits you with the stone-cold reality of "Brooklyn". Yeah, the entire book is written is like that.
Because of that, I couldn't connect with the story or the characters at all. I understand what the author was trying to do, but this story didn't work for me at all. If you want something like this, try Evelyn Skye's The Crown's Game.
Everyday reality is a drag™.

FUN®—the latest in augmented reality—is fun (yay!) but it's also frustrating, glitchy and dangerously addictive (boo!). Just when everyone else is getting on, seventeen-year-old Aaron O'Faolain wants off.

But first, he has to complete his Application for Termination, and in order to do that he has to deal with his History—not to mention the present, including his grandfather's suicide and a series of clues that may (or may not) lead to buried treasure. As he attempts to unravel the mystery, Aaron is sidetracked again…and again. Shadowed by his virtual "best friend" Homie, Aaron struggles with love, loss, dog bites, werewolf pills, community theater, wild horses, wildfires and the fact (deep breath) that actual reality can sometimes surprise you.

Sean McGinty's strikingly profound and laugh-out-loud funny debut unearths a world that is eerily familiar, yet utterly original. Discover what it means to come to the end of fun.
Description taken from Goodreads.
---
This book reminded me of one of my favorite books of all time, Ready Player One… gone wrong. Like with other books that remind me of ones I've loved (or hated), I can only truly talk about The End of FUN by comparing it to RPO.
Ready Player One is categorized by Amazon as one of their 100 Young Adult Books to Read in a Lifetime, and it deserves its place there. It's crude in a classy way, which seems like an oxymoron until you read it. Granted, there are some parts that are just crude and not classy in the least, but mostly it's a mix between the two. It's raw and it's hilarious and it's everything. If Ready Player One is an adult-type YA novel, then The End of FUN is a middle-grade type YA novel.
It attempts to be funny to cover up how lame the plot is. It bounces from place to place without too much thought or emotion. (I swear, I didn't hate these books as much as it sounds). There were parts to it I enjoyed, but for the most part, I was more than underwhelmed.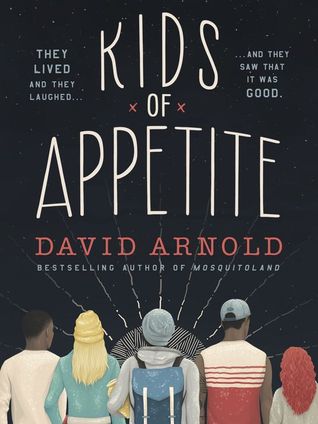 Victor Benucci and Madeline Falco have a story to tell.
It begins with the death of Vic's father.
It ends with the murder of Mad's uncle.
The Hackensack Police Department would very much like to hear it.
But in order to tell their story, Vic and Mad must focus on all the chapters in between.

This is a story about:

1. A coded mission to scatter ashes across New Jersey.
2. The momentous nature of the Palisades in winter.
3. One dormant submarine.
4. Two songs about flowers.
5. Being cool in the traditional sense.
6. Sunsets & ice cream & orchards & graveyards.
7. Simultaneous extreme opposites.
8. A narrow escape from a war-torn country.
9. A story collector.
10. How to listen to someone who does not talk.
11. Falling in love with a painting.
12. Falling in love with a song.
13. Falling in love.
Description taken from Goodreads.
---
Strangely enough, out of these three books, Kids of Appetite came the closest to making me enjoy all of it. If it wasn't written the way it was, I think it's safe to say I would've loved it. I've come to the conclusion that David Arnold's writing and I just don't get along. He spends too much time trying to make his plot seem more clever than it is, and I'm not into those kinds of novels. The plot was well-done though, and I loved some of the twists. I definitely liked this one more than his debut, and I'll be checking out his next book just to see if anything changes.
Out of the books above, I would probably recommend The End of FUN and Kids of Appetite to the right people. In the case of KoA, it's not the book, it's me. It's not written badly, but it's not my kind of story. The End of FUN was decent, and I'd probably recommend it to some mature middle-grader. I want to say Vassa in the Night was great, but in all honesty, it's not a book I can vouch for. I'm sure other people will love it, but it wasn't my book.
The End of Fun

: 1.5 stars

Kids of Appetite

: 2.5 stars

Vassa in the Night

: 1 star.