Today I'm sharing with you guys a playlist for Stalking Jack the Ripper if it was a movie as a part of the blog tour! It's just ten days until SJTR is revealed to the world, and I can't wait to share it with all of you. But first, a little bit about it: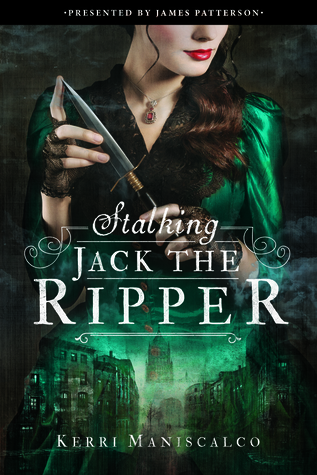 Seventeen-year-old Audrey Rose Wadsworth was born a lord's daughter, with a life of wealth and privilege stretched out before her. But between the social teas and silk dress fittings, she leads a forbidden secret life.

Against her stern father's wishes and society's expectations, Audrey often slips away to her uncle's laboratory to study the gruesome practice of forensic medicine. When her work on a string of savagely killed corpses drags Audrey into the investigation of a serial murderer, her search for answers brings her close to her own sheltered world.

The story's shocking twists and turns, augmented with real, sinister period photos, will make this dazzling debut from author Kerri Maniscalco impossible to forget.
Description taken from Goodreads.
Why I Chose to Do A Soundtrack
When my review for Stalking Jack the Ripper came out last week, I mentioned that the book made me fall in love with Victorian England again. It reminded me of stories like the Sherlock Holmes books and movies, which played large parts in crafting my love for the era.
At first, when I watched the movies, I didn't like them and thought that they didn't live up to the books and the stories of Holmes & Watson, but the music was a large part of convincing me otherwise. So, without further ado, here are five songs I think would be perfect for a Stalking Jack the Ripper movie!
Stalking Jack the Ripper Movie Soundtrack
Panic, Shear Bloody Panic by Hans Zimmer
There are many amazing songs on the Sherlock Holmes soundtrack, but I think PSBP fits Stalking Jack the Ripper the most. It starts out low and subtle, vaguely creepy, but goes into the haunting melody that makes these movies about halfway through. I think it would be great for the suspense throughout the novel as well as the quieter bits.
Closer by Lemaitre ft. Jennie A.
 I love the beat of this song, and the lyrics are fitting for so many moments in Stalking Jack the Ripper. Jennie A's ghost-like voice is the cherry on top of the song.

E.T. (cover) by Aston Audio
I'm not the hugest fan of Katy Perry, but I love this cover by Aston. It works well for the parts of Stalking Jack the Ripper that aren't all creepy or all suspenseful. The fact of the matter is that Audrey Rose is still a lord's daughter, and she has duties as such. We get to see a little bit of that, and I think this would work well there or when she falls in love with Thomas.
Merry-Go-Round (cover) by Sungha Jung
Sungha Jung is a guitarist I've highlighted before on the Monday Musts, and this is a cover of a song from the amazing movie Howl's Moving Castle. Sungha's version of this song is a tiny bit slower (or feels that way) than the original, and I think it would be great for the parts of SJTR that aren't necessarily as punchy, but still dark, mysterious, or maybe just otherworldly.
Beyond the Veil by Lindsey Stirling
I would love to see this in a Stalking Jack the Ripper movie to highlight the most exciting elements of the story. The chases, the action, the climaxes. I can see it used in the most crucial moments that could make or break the story. And I love Lindsey Stirling :D
---
That's all for this blog tour post! Be sure to check out the other spots on the tour, and add Stalking Jack the Ripper to Goodreads. It'll be coming out on September 20th, 2016. Follow Kerri on Twitter for all the latest news! You can also find Kerri and SJTR at the links below:
Find SJTR: Goodreads Ξ Amazon Ξ Barnes & Noble Ξ Indiebound Ξ
Connect with Kerri: Twitter Ξ Facebook Ξ Instagram Ξ Website Ξ Tumblr Ξ Pinterest Ξ