Last month, I heard about the Slowathon readathon from Kaitlin @ The Mismatched Reader. The Slowathon is taking place from September 12th to September 18th. It's a readathon hosted by Marlin @ MarlinElena that was inspired by the desire to have a readathon based around quality, not quantity. It sounded like something that was completely my speed (:D), so I decided to check it out! You can learn more about my take on this challenge here.
THROWBACK REVIEW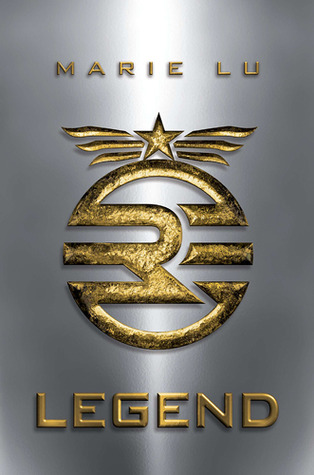 What was once the western United States is now home to the Republic, a nation perpetually at war with its neighbors. Born into an elite family in one of the Republic's wealthiest districts, fifteen-year-old June is a prodigy being groomed for success in the Republic's highest military circles. Born into the slums, fifteen-year-old Day is the country's most wanted criminal. But his motives may not be as malicious as they seem.

From very different worlds, June and Day have no reason to cross paths—until the day June's brother, Metias, is murdered and Day becomes the prime suspect. Caught in the ultimate game of cat and mouse, Day is in a race for his family's survival, while June seeks to avenge Metias's death. But in a shocking turn of events, the two uncover the truth of what has really brought them together, and the sinister lengths their country will go to keep its secrets.
Description taken from Goodreads.
---
I won't name names because it'll probably end up being reviewed later on, but I recently reread a book that I used to love, and it… sucked. It hurts to say that because it was a book that I loved so much at the time, but reading it years later with fresh eyes, the only thing I could see was how immature the main character was. I couldn't stand her actions. I couldn't understand her voice. The sweet romance I remembered turned into this plot element that was shallow and centered around the girl.
Because of this experience, I was scared to reread Legend. This series remains in my memory as one of the greatest trilogies I've ever read, and some of the best books I've ever read even when they stand-alone. But no. Legend was so much better than I remembered it being.
In fact, what surprised me the most was how much I'd forgotten. I thought I had a pretty good grasp of how the plot went, and I guess I did, but I still managed to leave out many of the events that make the plot connect.
Which made me appreciate the plot all the more. Another thing I loved much more than I had the first time I read was how smart the characters are. I feel that, often times, I don't feel how smart or observant the characters are. Authors throw around titles like "perfect test scores" and "Ivy-league bound", and nothing about how that person acts or lives strikes me as that character being someone admirably intelligent.
In Legend, Lu weaves her story together seamlessly. Day and June's mystery is completely based around the two of them, and everything about the plot felt natural. I was surprised and happy and horrified right along with them, and even though I know how the book goes, it was like I was discovering it all over again. The twists still stunned me, and the ending still left me wanting more, more, more.
I'll admit that when I first reviewed Legend on the blog, I didn't want to pour my heart out about the book because other high-profile bloggers I looked up to and respected weren't such fans of the book. People haves said that the story has been done before, and I can agree with that, but it's not the entire truth.
The writing and execution is what makes this story, not the premise. When I was reading, I was blown away by the succinctness with which Lu writes. There's nothing flowery or dreamy about her writing. Instead, it's edgy, in the best way. Like every single word was poured over, over and over again, until she found the perfect descriptor or verb or adjective. The world-building of Legend made me feel like I was actually there, in sectors overcome by poverty and ballrooms glittering with wealth (it's the spirit of Legend, guys). I could envision the places she talked about like they were Pinterest concept art, and that's a skill that can't be discounted.
And while we're talking about skill, we need to mention the CHARACTERS, Day and June especially. I know I already touched on their intelligence, but these two are just so real. Throughout the book, they don't forget what it is that led them to where they currently are. Both of them are fiercely loyal, both to their promises and to the people they love, and they don't let other things distract them from what they need to get done. I loved and admired that when I read the first book, and it was incredibly refreshing this time around as well.
But in the end, why should you read it? Why is it one of the few trilogies I would recommend to everyone? I've read the criticism (which I refute like it's my book baby and not Marie Lu's), and on some level, I agree with it. No, this isn't the most mind-bending story you'll ever read. It's not wholly original (which I've already dealt with), and it's a little formulaic.
The thing is that it's entertaining. It's well-plotted and smart, and the characters are people who don't absolutely drive me insane with their childish antics. It's got the it factor. It's written in a way that gives me something to aspire to. It has a good romance that clearly remains as a sub-plot, and it tugs on the heartstrings just a little. If I had anything bad to say about it, I would say that I want a little more emotion and a little less action/mystery/thriller (though I'm not complaining), but Champion provides plenty of tears.
All in all, I'm so thankful to #Slowathon for the reread, and I can say that this one needs to be read. 4.5 stars.