Last month, I heard about the Slowathon readathon from Kaitlin @ The Mismatched Reader. The Slowathon is taking place from September 12th to September 18th. It's a readathon hosted by Marlin @ MarlinElena that was inspired by the desire to have a readathon based around quality, not quantity. It sounded like something that was completely my speed (:D), so I decided to check it out! You can learn more about my take on this challenge here.
For the #BBCreativityProject last year, my group did a feature where we recommended books to characters we loved. I liked the idea so much that I wanted to do it again for Slowathon! This time, I'll be doing it Monday Musts style where I recommend a book, a show, and a song to the main characters of Holding Up the Universe by Jennifer Niven:
READ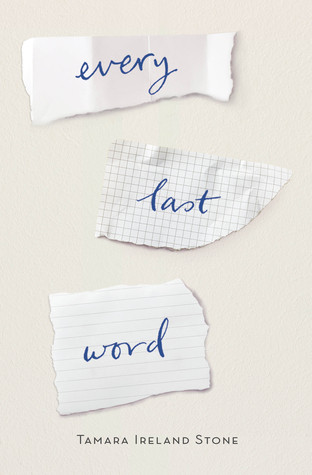 I think Holding Up the Universe's Jack and Libby would love Every Last Word's AJ and Samantha. Although the pairs are different from each other, they're also very similar. Both have their own issues to deal with. Both support their girlfriend/boyfriend through their struggles.
On a deeper level, Jack and AJ are actually pretty similar. They look like jerks in the beginning of the story because of who they hang out, but they're actually great guys who mean well.
The same is true for Libby and Samantha. They've got different personalities and they struggle with different things, but they're both brave and strong and determined to fight what it is they're going through.
Although their stories are different, I think this post goes to show how we can uplift each other through stories. With every last word, we can hold up each others' universes :D
LISTEN
Sure, Jack and Libby go through their issues, but they also have their own fun. They fall in love over the course of the story, and they find ways to become more than what they're dealing with. Libby's a dancer, and with this song, I wanted to give her something to have fun with. I don't do disco (and neither does Jack), but if I was to introduce my music tastes to her, I think she would like this one. I think it's the perfect mix between the lyrics having some meaning and being jammable.
WATCH

If the song is more for Libby, the show is more for Jack :) In the story, Jack mentions that he can find it hard to watch movies and TV shows because he can't recognize the people. Cartoons are a little bit easier, so why not introduce an anime to him? I think Nuraihyon no Mago is the perfect one to start him off. The major characters all have distinctive looks, hair colors, and personalities so he would have less trouble telling them apart. The story and action sequences are also great. For the same reasons, I would also recommend Fullmetal Alchemist.
---
What music, books, or shows would you recommend to your favorite characters? If you've read Holding Up the Universe, what do you think of my picks? :D