Last month, I heard about the Slowathon readathon from Kaitlin @ The Mismatched Reader. The Slowathon is taking place from September 12th to September 18th. It's a readathon hosted by Marlin @ MarlinElena that was inspired by the desire to have a readathon based around quality, not quantity. It sounded like something that was completely my speed (:D), so I decided to check it out! You can learn more about my take on this challenge here.
DAY 5: READ AN INTIMIDATING BOOK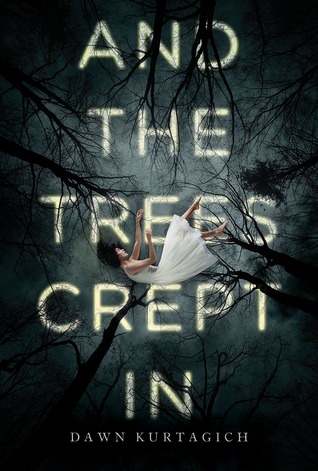 When Silla and Nori arrive at their aunt's home, it's immediately clear that the "blood manor" is cursed. The creaking of the house and the stillness of the woods surrounding them would be enough of a sign, but there are secrets too–the questions that Silla can't ignore: Who is the beautiful boy that's appeared from the woods? Who is the man that her little sister sees, but no one else? And why does it seem that, ever since they arrived, the trees have been creeping closer?

Filled with just as many twists and turns as The Dead House, and with achingly beautiful, chilling language that delivers haunting scenes, AND THE TREES CREPT IN is the perfect follow-up novel for master horror writer Dawn Kurtagich.
Description taken from Goodreads.
---
DNF.
I'm easily scared by stories. That's why I don't do horror. But I picked this one up at BEA and read a few excerpts of it during Commenting 365, so I figured it might be worth a shot. I was wrong. Eventually, I had to DNF this one, but not because it was scary.
The only explanation I have is that I gave up it before the really juicy stuff came in, because everyone seems to be pretty creeped out by this book on Goodreads. But in reality, I just thought the entire thing was a little bit… lame? Some of the things that were meant to be creepy or scary were just weird, and I wasn't drawn in by the voice of the novel at all. The irony of it all is that I had to give up because I couldn't connect with the writing. I finally brace myself for a horror novel, and I end up giving up because I dislike the writing?
Honestly, it could just be that horror doesn't work for me because the storytelling isn't what I'm used to. I might have to read more of it, but I'm not jumping at the opportunity to do so.
I think what this whole experience proved to me is that I'm better off reading within my specified genres. I'll leave the horror to the horror people and acknowledge that Anna Dressed in Blood is a true gem that should be treasured on any bookshelf. Until I find more horror books like the Anna series, I'll be staying away from the genre. 1 star.
DAY 6: REREAD A BOOK AND COMPARE YOUR READING EXPERIENCES
Seventeen-year old Abby has only one goal for her summer: to make sure she is fluent in French—well, that, and to get as far away from baseball and her Cubs-obsessed family as possible. A summer of culture and language, with no sports in sight.

That turns out to be impossible, though, because her French partner is the exact kind of boy she was hoping to avoid. Eight weeks. 120 hours of class. 80 hours of conversation practice with someone who seems to exclusively wear baseball caps and jerseys.

But Zeke in French is a different person than Zeke in English. And Abby can't help but fall for him, hard. As Abby begins to suspect that Zeke is hiding something, she has to decide if bridging the gap between the distance between who she is and who he is, is worth the risk.
Description taken from Goodreads.
---
Most of the time, when I rate a book, I stick to it. Over the years, I can distinctly remember very few books whose ratings I regretted. But ever since its review was released, The Distance from A to Z was one of them. Before rereading it for Slowathon, I only remembered thoroughly enjoying the romance. It was memorable, among other things, and I remembered falling in love with the main characters.
However, as soon as I cracked the book open, I remembered exactly why I rated it the way it did. The romance is amazing in The Distance from A to Z, and I loved the concept, but there were a ton of other things I had forgotten about the story. Needless to say, I don't regret my rating choice anymore. Here's my comparison review with direct quotes from my original review:
Topic
From the Original Review
My Feelings Now
On Zeke

She actually judges the quality of people based on what they think about baseball. Personally, I think that's silly and it bothered me throughout the entire book.

However, I also thought that Abby was a hard worker determined to do whatever it took to reach her goals… For the most part, I enjoyed her character.

I can't phrase it any better now. This is how I still feel about Abby. All I can add is that, at the time, I couldn't understand why the author wrote Abby the way she did. Now, I think it's because the author was trying way too hard to press certain points about the book like the Frenchness or the anti-sportsness. Now, I think that if the author had chilled out a little bit with the writing and let things happen naturally, this book could've been spectacular.
On Abby
At times, he was sweet and great. At others, he was rough and standoffish. And what's with him being with so many other girls all the time?
 The problem with Zeke is that it's hard to understand where he's coming from. One moment, he's great. The next, he's not. I didn't understand what that was supposed to accomplish in the grand scheme of things. To create drama? It wasn't the right way to go for me.
On the romance

I came to love Abby and Zeke as a couple.

And by the way, this is a slow-burn, so prepare to suffer.

If there's anything I regret about that review, it's that I didn't emphasize how much I loved the romance. In the end, it's seriously so cute, even though I wasn't a fan of Zeke's love/hate tactic. I really enjoyed the way that the author brought the characters together and showed the full breadth of how they came together. In the end, Abby's annoying anti-baseball thing was worth it because of how Blitt showed it all coming together.
On the supporting characters
There were many disposable ones, which I didn't understand. There's a boy (whose name I can't even remember now, he was that forgettable) who showed up in the beginning maybe… twice? Yeah, he made the book seem like it was going to be a love triangle until I got to the middle and I realized he wasn't there for any real reason.
I still stand by this statement. There's nothing I can add to it.
On the notable supporting characters / friendships

Colin is the best. He's funny and cool and he shares completely platonic relationships with Abby and Alice.

Alice and Abby had a wholly positive relationship throughout this book. They're constantly there for each other, supporting each other all the time, helping each other past personal obstacles, encouraging each other and being proud of one another. This is the kind of friendship that needs to be shown in YA.

Colin's comment, I agree with. I didn't understand why Colin was there either, but I'm not complaining. He was fun to have around, and I enjoyed reading about him.

But with Alice, I wish I hadn't emphasized her so much. During this reread, I had a general dislike of her. She had a lot of potential as a character, and I liked the way she and Abby supported each other, but again, I felt like Blitt was trying too hard. Abby and Alice have an instant connection, and not only was it annoying, but it was ridiculously cheesy. I enjoy cheesy things. Gifts, events, notes, shows, even food from time to time, but not in my books.

On the premise and the writing
There aren't a whole lot of books in which another language plays an active role, so that was cool to see as well. Natalie did a fantastic job of translating the French within the story without having a bunch of parts that were formatted the same way. I liked the way she approached certain difficult sections when Abby was flustered or didn't know what to do.
Overall, I think this story could've been incredible. Blitt's a good writer, and I can see a lot of potential in

The Distance from A to Z

. The way she handled her premise and plot are further proof of that. However, this one just didn't cut it for me. I'd love to see what she comes out with in the future.
If I could rate this book again, I'd stick by my previous rating.
---
Have you ever regretted rating a certain book the way you did? If you've read And the Trees Crept In or The Distance from A to Z, what did you think of them?