This post has been on a long journey to get here. It originally started out as a post for SBPT (which explains the change in banner and number of books) but the person who was supposed to do it ended up deleting her blog before the post went live. I originally wanted to save it as an emergency post or maybe a guest post elsewhere, but September 13th's theme for Top Ten Tuesday was top ten favorite books of X genre, so I decided to tie it in there. But then I decided to participate in Slowathon, and I cleared the week of September 13th out for that read-a-thon. I finally decided to put it for this week's Top Ten Tuesday because I already kind of did a Fall TBR list with the Fall Over my TBR tag (you can tell I did a lot of rescheduling for the month of September).
Nevertheless, this post was one I definitely wanted to do because it's about the genre closest to my heart, and I'm glad I can finally share it with you!
As a disclaimer: I keep wanting to change this list. It doesn't look quite right to me whenever I look at it, because I've read so many incredible fantasy books. But these books have managed to fight their way onto the list, and they're all near and dear to my heart.
The Son of Neptune by Rick Riordan
Series: The Heroes of Olympus #2
Rick Riordan was my favorite author for much of my childhood, and especially my middle-grade years. Out of all his books that I loved, The Son of Neptune stands out. I love the book from beginning to end, and it was so nice to come back to Percy's POV after not knowing what the heck was going on in the first book of this series. I thought it was expertly plotted, and the writing was some of Riordan's finest. This ending of this book also marked the first time that I realized what a genius he was to tie the first three books of this series together the way he did. I was so surprised, and I'm still in awe of this book.
---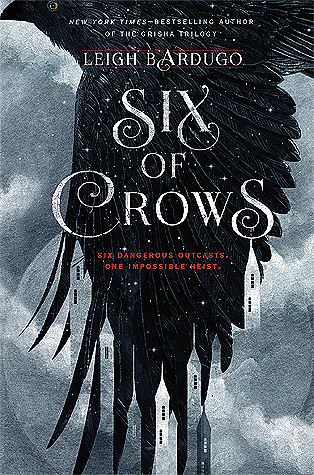 Six of Crows by Leigh Bardugo
Series: Six of Crows #1
Add to Goodreads // Read My Full Review
I hopped on the Leigh Bardugo train fairly late. I wasn't a huge fan of the Grisha trilogy for the longest time, and I didn't really understand the world or the characters. When I read Six of Crows, I was blown away by the world-building, the gorgeous writing, and the characters whom I cared about from the very beginning. There are few characters I've loved as much as Leigh Bardugo's, and I've since reread the Grisha trilogy. I'm looking forward to the rest of her work, and I'm dying for Crooked Kingdom (THE ENDING OF SIX OF CROWS THOUGH ;-;).
By the way, how does one even come up with a title like Six of Crows? Leigh Bardugo is too pro.
---
An Ember in the Ashes by Sabaa Tahir
Series: An Ember in the Ashes #1
Add to Goodreads // My Full Review
I like it when my books play mind games (in a good way), and I don't know whether to love, admire, or fear the characters. An Ember in the Ashes does that brilliantly, and I love how all the characters are intertwined with each other. They were smart, funny, and lovable each in their own ways. While I initially had problems with the romance, this is a book I've come back to many times after I read it. The world was beautifully crafted, and the relationships shown were spot on.
---
Tiger Lily by Jodi Lynn Anderson
Add to Goodreads // My Full Review
Tiger Lily wrecked me.
This book will rip out your heart and make it so that every other Neverland retelling is less than this. The characters are heartbreaking in the best and worst possible ways, and you don't even realize how completely sad and dark and horrible some of the things in it are until the end. It's safe to say that I've never read a book quite like this before. All I can say is, if you're holding out on this one, you need to move it up your TBR pile stat. It's such a worthy read, and I love rereading every word of it, not to mention Jodi Lynn Anderson's amazing writing.
---
A Darker Shade of Magic by V.E. Schwab
Series: Shades of Magic #1
Add to Goodreads // My Full Review
The world of A Darker Shade of Magic might just be the most gorgeously imagined book world I've ever stepped foot in. It was the book that made me love Victoria Schwab. This story is so full of EVERYTHING. The characters aren't the only things that have multiple faces; the coats change in and out, doors lead to fantastical worlds, and nothing is quite as it seems. Loyalty is tested on all sides, and what comes out is an epic story with your next OTP. Needless to say, A Gathering of Shadows can't get here quickly enough.
---
What are some of your favorite fantasy reads? Any books that should be on this list? If you did a TTT, link it below and I'll check it out!