The Mondays Musts is a feature by Jessica @ Lovin' los Libros! Every Monday, you post about your must read, must listen and must see. Every week, I pick my musts based on a certain theme, which is expressed by one word that's used within the post. The theme for last week's picks was otherworldly!
Must Read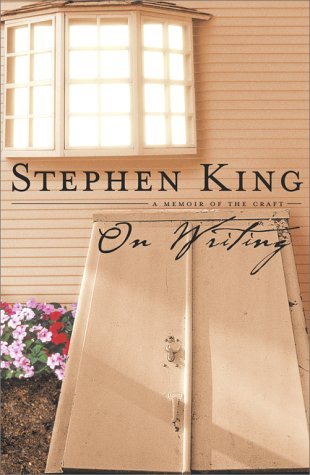 In the world of craft books on writing, there is only On Writing.
Just kidding.
But really. On Writing is an incredible book, one that I would recommend to any writer, not just people who write the same genres as King. I didn't even review the book because I didn't think there was any way I could explain everything about the book within the span of a single post. I did make a list of the top ten things I learned from the book, but I couldn't bring myself to write a review.
King's like the cool high school teacher/mentor who makes life seem less hard than it actually is, even though he's giving you the lowdown on how difficult it is. If that makes sense. He weaves his anecdotes, experience, and advice into a story all its own, and he makes you want to write the way that he does.
Someday, I hope I can write the way King tell us to.
If you're a writer, and if you're not, READ THIS.
---
Must Listen

I don't know exactly why I love this song, but I can listen to it over and over again over time and not get tired of it. It's got a catchy beat, and the lyrics grew on me even though I wasn't a fan in the beginning. It talks about a guy who's kind of clueless when it comes to relationships and has to constantly face his girlfriend getting mad at him for what he's done. Despite his issues, he's working on a bit of self-improvement and trying to figure out where he went wrong.
Must See
For the past few weeks, I've been working on organizing the blog! As you can see from the picture above, there's a new page on TSW: a list of reviews by their titles. Previously, I had a list of reviews by the author's last name, and that's under the reviews tab in the menu, but I wanted a more simple, easily understandable list.
It was a lot of fun to come up with me and see the patterns in titles. Some fun facts:
I've never loved a book that started with K (and reviewed it on the blog).
The word girl is the most commonly used word across these titles (not including the).
The word chronicles is the most commonly used word across the series titles.
More books start out with the letter T than any other letter, but what's surprising is that there are more books that I loved in the T category (36, to be exact) than there are books in total for 22 of the other letters of the alphabet. S is the s-eption (:D).
A bonus on the T section: If you take out just the book titles that begin with The, and you look at the letter that comes directly after (ex. The A, The B, The C, etc.), you have almost a whole other alphabet. I'm missing E, N, X, and Z.
There are only two letters that don't have a single book in them, and those are Q and X.
---
If you did a Monday Musts, link it below and I'll check it out! What do you think the theme today was?