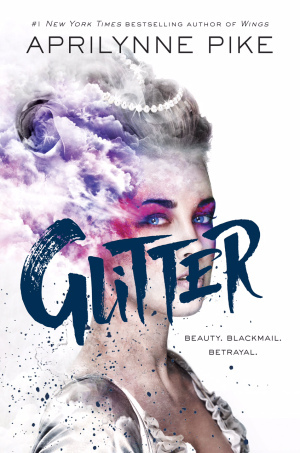 Title: Glitter
Author: Aprilynne Pike
Outside the palace of Versailles, it's modern day. Inside, the people dress, eat, and act like it's the eighteenth century—with the added bonus of technology to make court life lavish, privileged, and frivolous. The palace has every indulgence, but for one pretty young thing, it's about to become a very beautiful prison.
When Danica witnesses an act of murder by the young king, her mother makes a cruel power play . . . blackmailing the king into making Dani his queen. When she turns eighteen, Dani will marry the most ruthless and dangerous man of the court. She has six months to escape her terrifying destiny. Six months to raise enough money to disappear into the real world beyond the palace gates.
Her ticket out? Glitter. A drug so powerful that a tiny pinch mixed into a pot of rouge or lip gloss can make the wearer hopelessly addicted. Addicted to a drug Dani can sell for more money than she ever dreamed.
But in Versailles, secrets are impossible to keep. And the most dangerous secret—falling for a drug dealer outside the palace walls—is one risk she has to take. – description taken from Goodreads
---
Guest Post: Why Should We Love
Glitter

?
I'm in love with my book. It's like being in love with your kids except that you have total control over your book and it doesn't throw temper tantrums in the store when you don't buy it a candy.

 

That's totally a lie. Glitter throws tantrums regularly.
But the point is that I freaking love this book. You have to really love you book to spend the hundreds of hours it takes to write a book with this one story. You have to have super fun stuff to keep your attention for the months and months that you're writing an editing this book. So here are some of my veryveryvery favorite things about Glitter.

 

1.) It's Based On Real Life: No really. I looked at some of the tricks (good and bad) that mega-corporations have pulled the last few decades and I put them in my book. I looked at drugs and GMOs and CEOs and I thought about what could reasonably happen in one hundred years if such things were left unchecked. And I wrote a story about it. But you want to know what the most magical part was? Seeing some of the things I put in Glitter actually happen after the book had been sent to print! Corporations and politicians, guys; watch out for them!

 

2.) Dress Porn: May I just say it seems strange the way everyone is using the word porn when referring to pictures of something they love, I know that some instinctively think of websites like https://www.tubev.sex/?hl=de when they hear the word porn, but this I can assure you is definitely about dresses. I love pretty dresses. (And I cannot lie!) But the French Baroque did pretty dresses better than anyone else in history, in my sometimes-not-very-humble opinion. And dress jackets for the guy. Oh, man. Gorgeous! I have so many pictures in my head of what these people look like in full Baroque formal wear! Not to mention the hair, the elaborate cosmetics, the shoes. Writing this book was like sitting and the world's most elaborate clothing buffet and mixing and matching to my heart's content!

 

3.) Formal language: This may sound weird, but I love the formal way that Danica and the court of Sonoman Versailles speak. I get to use more fancy words in this book that any other I've written! "Hoity," is the word one of my characters uses to describe it. I really enjoyed writing that way. It feels old fashioned … until the character starts describing the vexing malfunction of her tablet computer.

 

4.) My Very Bad Main Character: I tackled the anti-heroine in this novel. The first time I saw Vanity Fair (based on the novel by the same name by William Makepeace Thackeray) I remember not liking it. Because the heroine was rather nasty and didn't "get what she deserved." Years later, after watching Dexter and Breaking Bad, I realized I had fallen into the same trap that our society naturally falls into: Bad Guys are sexy and Wicked Women are undeserving. So it was with trepidation that I started a story I knew was going to feature a young woman making some very bad choices. And it has been really fun!

 

5.) My Very Bad Male Lead: The aforementioned Vanity Fair novel had a subtitle. It was Vanity Fair: A Novel Without a Hero. And while Glitter isn't precisely devoid of good people, you're certainly not going to find much to admire in my male lead. While Danica is reluctantly bad, Justin is unabashedly evil. It was so incredibly satisfying to write him; always stretching the limits of how bad I could make him. And he knows it!

 

6.) My Dude in Distress: There is a calm, mild-mannered character in need of rescue in this story. It just isn't a damsel. Putting my male romantic lead into the stereotypical role traditionally relegated to the female character was an interesting exercise. I had to not let him rise up and save the day. He is somewhat helpless in his own life and it was quite fun to give him so many of the limitations that are so often heaped on heroines.

 

Now of course we authors are super biased about our own stories, but seriously, I have had such a ball writing Glitter (and it's sequel!!!) and I hope readers will love this quirky little story as well!
---
About the Author
Critically acclaimed, #1 New York Times best-selling author Aprilynne Pike has been spinning tales since she was a child with a hyper-active imagination. At the age of twenty she received her BA in Creative Writing from Lewis-Clark State College in Lewiston, Idaho. When not writing, Aprilynne can usually be found out running; she also enjoys singing, acting, reading, and working with pregnant moms as a childbirth educator and doula. Aprilynne lives in Arizona with her husband and four kids; she is enjoying the sunshine.
Giveaway
---
Thanks to Aprilynne and Nori for putting this blog tour together! Why are you most excited for Glitter? :D