The Mondays Musts is a feature by Jessica @ Lovin' los Libros! Every Monday, you post about your must read, must listen and must see. Every week, I pick my musts based on a certain theme, which is expressed by one word that's used within the post. The theme for last week's picks was self-improvement!
Must Read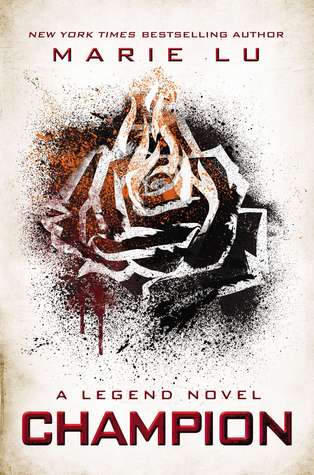 I'm the first one to admit it: sometimes there are varying degrees of must in these Monday Musts. Regardless of reasoning, it's just a personal truth.
The Legend trilogy is very high priority MUST. This is one of those YA trilogies I would recommend to everyone. It crosses genres and audiences, and it's brilliant. Without a doubt, this series, and Champion particularly, are some of the greatest books I've ever read.
I raved and ranted in my review (linked below!) but I'll expand a little bit more on why exactly I love these books so much. To be frank, Champion's ending sealed the deal for me. The feels of it all are unreal. It's one of the best endings I've ever read, and I thought it perfectly (in its imperfection) tied together the loose ends of the series. This was the only way it could've ended, and that's Marie Lu's magic. She makes stories real.
---
Must Listen

Sorry, but incredible stories isn't the theme, but just looking at this MV and Champion, it definitely could be. This is my favorite song from the OST of my second favorite Korean drama of all time: Descendants of the Sun. I love it when a haunting voice, hardcore rap, and amazing lyrics come together, and this song made it happen. And then the MV and song talk about one of my favorite parts to this drama: the romance between the supporting characters. And then there's the small fact that I'm a huge fan of Mad Clown. I guess this is just a list of big musts :D
Monday Musts 33 featured another song like this, if you're interested.
Must See
The world is a hard place. What can I say? I feel for the little guy. ;-;
---
If you did a Monday Musts, link it below and I'll check it out! What do you think the theme today was?