The Mondays Musts is a feature by Jessica @ Lovin' los Libros! Every Monday, you post about your must read, must listen and must see. Every week, I pick my musts based on a certain theme, which is expressed by one word that's used within the post. The theme for last week's picks was cool.
Must Read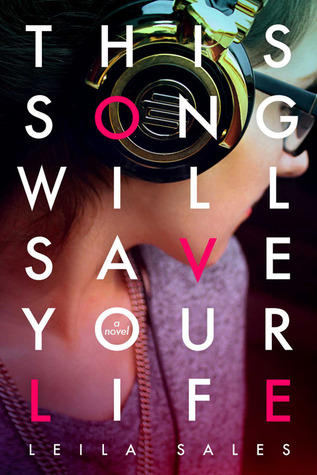 I was really reminded of this book when I reflected on it for a project, and I ended up rereading parts of it. Although there are segments that I forgot about and I understand more of the story, the way I feel about the book remains as it did when I read and reviewed it for the first time two years ago.
I still don't have all the words it takes to describe This Song Will Save Your Life, but if I had to say it one way, I'd probably say that it embodies coming-of-age. Elise starts out completely hopeless and lost. She feels like she has nowhere to go, no friends around her, no one who is just hers. And then she starts making friends who are out of the ordinary. She begins to DJ at a local underground club. And she learns how to see the people who have been supporting her all this time. She learns that being outside of the norm is okay, in a way that's not contrived or try-hard or unnatural. Sales managed to weave a beautiful story about hope, fear, and growing up, and it's definitely one of my favorite contemporaries. A must!
---
Must Listen
In honor of 2NE1's disbandment, I had to highlight this video. They have so many amazing songs, but the point I want to drive home with this pick is that 2NE1 isn't over. There are many fans and YG lovers (myself included) who were incredibly disappointed by the news of Nam Taehyun's departure from Winner and 2NE1's disbandment, BUT THIS ISN'T THE END. IT CAN'T BE THE END.
The reality is that these people are still around. Taehyun will continue to make music on his own and receive treatment for his illness. Dara and CL are with YG still, and we'll be seeing a lot of them with all of their solo material. On the same day that the news was released, Bom posted a video where she said she was practicing for a new song, so she has to be coming out with something sooner or later. There's no word on Minzy, but hopefully she'll step into the spotlight here soon enough.
Dara, Bom, Minzy, CL, and Taehyun are still around, and we still have things to look forward to with them. They all had a great run with YG as 2NE1 and a part of Winner, and their songs then are still, well, the best. Much of my favorite music comes from 2NE1's albums. Personally, I wish them the best of luck, and I anticipate their projects to come.
Must See
This is late in coming, but Hayao Miyazaki is coming out of retirement to make another movie! Sure, it's a caterpillar movie, but who cares! I'll watch anything he comes out with. Best of luck to Miyazaki in the making of the movie, and I'm looking forward to seeing him reclaim his throne.
---
If you did a Monday Musts, link it below and I'll check it out!