Aw, the last books that I read in 2016. I hope that with this post, I can wrap up all the books that I didn't absolutely love in 2016 and look forward to 2017! 2017's been off to a great start so far, and I've got a lot of things in store for you all, but first, here are two books that I did and didn't love recently:
There never was a story that was happy through and through.

When writer Arthur Ransome leaves his home in England and moves to Russia to work as a journalist, it is with little idea of the violent revolution about to erupt. Unwittingly, he finds himself at its center, tapped by the British to report back on the Bolsheviks even as he becomes dangerously romantically entangled with revolutionary leader Trotsky's personal secretary. Both sides seek to use Arthur for their own purposes…and, as he struggles to find autonomy, both sides grow to suspect him of being a double agent. Arthur wants only to elope far from the conflict with his beloved. But when he attempts to extract himself and Evgenia from the complicated politics and politicians that he fears will lead them both to their deaths, the decisions he faces are the most dangerous and difficult of his life.
---
Two misconceptions I had about this book before I started it:
My take on this book will be different from my take on the only other Sedgwick work I've read (The Ghosts of Heaven).
It was not. I thought maybe having a set genre to the story (historical fiction) and a somewhat linear storyline would help me to see Sedgwick's genius, but it wasn't to be. If you don't like Sedgwick's writing style in one book, then you probably won't like his other books.
This is YA.
It is not. It's labeled YA at my library and on Goodreads, is published by a YA publisher, has a YA-esque cover, and appeared in YA catalogs, but it opens with the main characters in their twenties. It also reads like adult historical fiction, so I can't say that I would truly recommend it to anyone who primarily loves their historical fiction in YA.
If you have these same misconceptions, then I wouldn't recommend Blood Red, Snow White, or any of Sedgwick's works. I enjoyed reading snippets of this, but his storytelling style tends to be a little bit too obscure for me.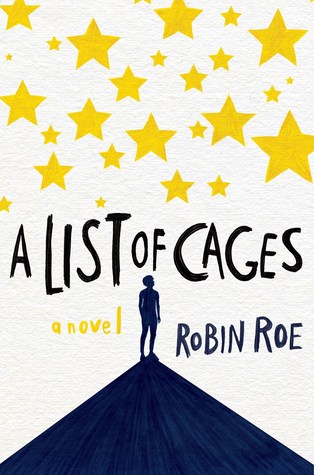 When Adam Blake lands the best elective ever in his senior year, serving as an aide to the school psychologist, he thinks he's got it made. Sure, it means a lot of sitting around, which isn't easy for a guy with ADHD, but he can't complain, since he gets to spend the period texting all his friends. Then the doctor asks him to track down the troubled freshman who keeps dodging her, and Adam discovers that the boy is Julian–the foster brother he hasn't seen in five years.

Adam is ecstatic to be reunited. At first, Julian seems like the boy he once knew. He's still kind hearted. He still writes stories and loves picture books meant for little kids. But as they spend more time together, Adam realizes that Julian is keeping secrets, like where he hides during the middle of the day, and what's really going on inside his house. Adam is determined to help him, but his involvement could cost both boys their lives.
Description taken from Goodreads. I received an advance copy of this book, to be published January 10th, 2017, via the publisher in exchange for an honest review. These opinions are my own.
---
A List of Cages belongs on so many YA bookshelves everywhere. It's beautiful inside and out (I mean, look at that cover), and it deals with a terrible subject matter in a way that's beautiful, intricate, and–at the same time–soul crushing. However, my shelf isn't one of the places it belongs. I hope that one day, I can reread this one and have it mean more to me, but the writing throughout was just so stale. I understood where the author was coming from. I understood the message she was trying to get across, but I appreciated the story more than I truly loved it.
Strictly speaking, there's nothing wrong with the book. The entire thing is a little bit dry, but that's, more or less, the nature of the story. It takes a while to develop everything put together in the story, and it was worth the wait. All in all, I'd recommend it, but it wasn't one that I loved personally.
---
These books will be great for some people, but all things considered, they weren't for me and I probably wouldn't recommend them if you're coming into them with the same expectations that I had.
Blood Red, Snow White

: 1.5 stars.

A List of Cages

: 2 stars.