The Mondays Musts is a feature by Jessica @ Lovin' los Libros! Every Monday, you post about your must read, must listen and must see. Every week, I pick my musts based on a certain theme, which is expressed by one word that's used within the post. The theme for last week's picks was cute.
Must Read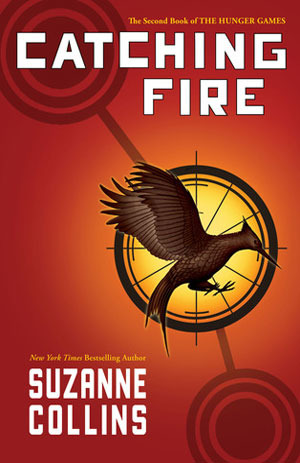 If memory serves, I've never reviewed Catching Fire on the blog, but it's one of my favorite books of all time and my favorite of the Hunger Games trilogy. There's a variety of reasons for that, and I'll get around to reviewing the whole series again someday, but for this post, I wanted to focus on the romance.
I know. The romance. Out of all the amazing things about this series, why the romance?
Because it's a fantastic romance, and through certain lenses, it's very much a love story. While the story has a ton of themes about war and violence and government, it also has themes on longing, unrequited love, and the nature of it all. I could go more in-depth about how I feel about Peeta and Gale (I'm Team Gale, but I'm pro-Peeta), but I'll save that for the book-by-book reviews.
Catching Fire I chose for this post because (a) as previously mentioned, it's my favorite book of the series, and (b), I believe this book is indispensable, especially when it comes to the romance. Many have argued otherwise, stating that Catching Fire is just a rehashed version of The Hunger Games, and there's certainly merit to that point of view, but I value CF for its honesty in breaking Peeta and Katniss apart, making them reevaluate their lives, seeing the Quarter Quell in a completely different perspective than the 74th Games, and forcing them to make decisions about themselves, their relationships, and what really matters.
---
Must Listen

Dean is just rocking and rolling. He recently came out with a couple of new songs, and Come Over was one of them. Initially, I liked it because it was catchy, but I'm starting to get into the lyrics. There's potential for this to become a new favorite. Plus, it's great to know that Yerin Baek's still alive (i.e., JYP, get her out of the basement more).
Must See

If you follow me on Twitter, you may know that I run a casual Instagram account for my dog, Rei (pronounced ray). I'm pretty active in the dog-stagramming world and I've seen a lot of cool dogs, but Mary and Secret blew me away. She taught her dog to do an Irish jig! Now if I can only get Rei to do that…
---
If you did a Monday Musts, link it below and I'll check it out!