Welcome to the kickoff of Diversify 2017! Diversify 2017 is a series of interviews and guest posts centering around books that I'm especially looking forward to and that I think truly represent the diversity movement that's been shaping up these past couple of years. To start us off, I'm excited to introduce an awesome read about a Japanese-American girl who ventures out on her own:
---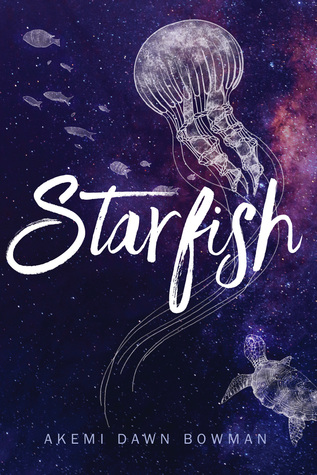 Release Date: September 26th, 2017
Kiko Himura has always had a hard time saying exactly what she's thinking. With a mother who makes her feel unremarkable and a half-Japanese heritage she doesn't quite understand, Kiko prefers to keep her head down, certain that once she makes it into her dream art school, Prism, her real life will begin.
But then Kiko doesn't get into Prism, at the same time her abusive uncle moves back in with her family. So when she receives an invitation from her childhood friend to leave her small town and tour art schools on the west coast, Kiko jumps at the opportunity in spite of the anxieties and fears that attempt to hold her back. And now that she is finally free to be her own person outside the constricting walls of her home life, Kiko learns life-changing truths about herself, her past, and how to be brave.
From debut author Akemi Dawn Bowman comes a luminous, heartbreaking story of identity, family, and the beauty that emerges when we embrace our true selves.
Description taken from Goodreads.
---
Interview
What inspired you to write Starfish? 
I often hear writers talk about "the book of their heart," or "the book they needed when they were younger." And I know it might be a cliché, but STARFISH is very much the book I wished I had growing up.
How would you describe Starfish in five words?
Art. Broken family. Tangled identity. (I tried and failed to make this a complete sentence, and it will haunt me forever!)
Can you do a brief introduction of your two main characters?
Kiko Himura is a half-Japanese teen who is trying to get into her dream art school. She has a mother who shows very little interest in her, and social anxiety which often prevents her from saying exactly what she's thinking. Jamie Merrick is her childhood best friend, who in some ways is the extrovert to her introvert. They reconnect just when Kiko's life seems to be unravelling, and decide to take a road trip together.
What Harry Potter houses do your characters belong to?
I think Kiko is a Ravenclaw (HOUSE PRIDE!), although I could see her being sorted into Gryffindor and being completely surprised by it. Jamie is a Gryffindor through and through. Hiroshi is most likely a Hufflepuff. And Kiko's mom would've been sorted into Slytherin, but she'd spend the rest of her life telling people she was in Gryffindor. Which, when I think about it, is a very Slytherin thing to do.
What's your favorite relationship in Starfish (besides the romance)?
Ooh, good question! I could go a few different ways here, but ultimately my favorite relationship in STARFISH is the one Kiko has with her art. Her drawings and paintings are not only a huge part of who she is, but they're also how she expresses all of the feelings she can never seem to find the right words for. Kiko's passion for art motivates her to chase after her dreams even when her anxiety tries to hold her back, and I think this makes the relationship with her art more important than any side character or love interest.
If you could write a letter to any fictional character, who would you write to and what would you say?
I not-so-secretly wish I could be best friends with Nina Zenik from Leigh Bardugo's SIX OF CROWS. She's hilarious, and she likes food, and honestly the best friends in the world are the ones you can laugh with and also don't judge you for getting the crème brulee AND the cheesecake. So I'd probably write her the ultimate fangirl letter and ask if she wanted to go out for waffles. Hopefully she'd say yes.
Did your time in the Navy or overseas impact Starfish at all?
I wouldn't say the Navy had a big impact on the story, necessarily. But I do remember the first time a travelled to Japan, which was for a seven-month deployment. It was the first time I really felt connected to the Japanese side of my culture. I'm biracial myself, and growing up I often had that feeling of not really belonging, especially since most of my Japanese-American relatives lived in Hawaii and I rarely saw them. There's a scene in STARFISH where Kiko experiences what it feels like to be surrounded by people who look like her. I very much felt this way the first time I was out and about in Japan. (I also hope to go back one day—their hot and cold vending machines are THE BEST.)
What diverse reads are you looking forward to in 2017?
SO MANY. I can't wait to read Sandhya Menon's WHEN DIMPLE MET RISHI and Cindy Pon's WANT. I'm also looking forward to Julie C. Dao's FOREST OF A THOUSAND LANTERNS, which sounds like the perfect East Asian-inspired fantasy I've been dying for!
---
About Akemi
Akemi Dawn Bowman is a writer of young adult fiction. She's a proud Ravenclaw and Star Wars enthusiast, who served in the US Navy for five years and has a BA in social sciences from UNLV. Originally from Las Vegas, she currently lives in England with her husband, two children, and their Pekingese mix. Her novel Starfish will be published in Fall 2017 with Simon Pulse, with a second untitled project to follow in Fall 2018. She is represented by Penny Moore of Empire Literary.
Connect with Akemi: Twitter Ξ Instagram Ξ Tumblr Ξ Facebook
---
Giveaway
Thanks so much to Akemi for doing this post! I'm so excited for Starfish and hope that it'll be a book I can really relate to. Be sure to follow Akemi on social media to keep up with all things Starfish related and enter into the giveaway above! The next author up will be Heather Kaczynski.