Welcome to Diversify 2017! Diversify 2017 is a series of interviews and guest posts centering around books that I'm especially looking forward to and that I think truly represent the diversity movement that's been shaping up these past couple of years. Today TSW's featuring a murder mystery and historical racial tensions called
---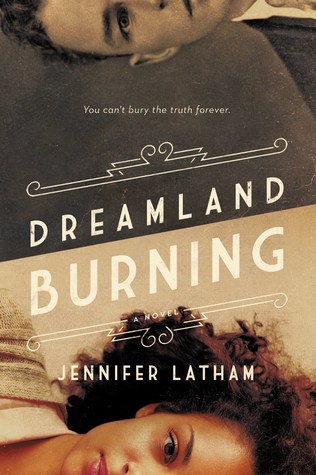 Release Date: February 21st, 2017
Some bodies won't stay buried. Some stories need to be told.
When seventeen-year-old Rowan Chase finds a skeleton on her family's property, she has no idea that investigating the brutal century-old murder will lead to a summer of painful discoveries about the past, the present, and herself.
One hundred years earlier, a single violent encounter propels seventeen-year-old Will Tillman into a racial firestorm. In a country rife with violence against blacks and a hometown segregated by Jim Crow, Will must make hard choices on a painful journey towards self discovery and face his inner demons in order to do what's right the night Tulsa burns.
Description taken from Goodreads.
---
Interview
What do you love most about Dreamland Burning?
I think the thing I'm most proud of is that, judging by the feedback I've gotten, I managed to weave together two perspectives on a murder—one starting before the murder and moving forward, the other starting long after the murder and working back—without giving the game away!
What was the biggest difference between writing Dreamland Burning and writing Scarlett Undercover?
The research was far more intense for Dreamland Burning. And I'd have to say that crafting the two books was very different, too. Scarlett Undercover is a hardboiled detective novel, which is a genre with a defined template that makes writing fairly straightforward. Dreamland Burning, on the other hand, is a hybrid with no template at all. Choosing historical facts to include was difficult, and there were so many strands to weave together that some days I'd just walk away from my computer and cry.
What was the hardest part of writing Dreamland Burning?
Technically, pacing the mystery and trying to keep Will and Rowan's chapters both compelling and balanced.

Emotionally, staying mentally immersed in such a tragic event for so long, and writing dialogue for characters who were truly evil. After mornings spent writing Vernon Fish, I'd literally feel dirty for the rest of the day.
What made you want to write diverse historical fiction mysteries?
Honestly, I never sat down and thought, "I'm going to write a diverse historical fiction mystery." My intention when I started Dreamland Burning was to tell a memorable story set during this horrific, nearly-forgotten event that happened in my town. It took almost three years of research before I started constructing the mystery plot, and by the time that happened, the complexity of the events leading up to and following the race riot/massacre had become so ingrained in my understanding of what happened that it came out naturally in my characters. It would have felt inaccurate and disrespectful to skim over how the riot/massacre affected all Tulsans, and Tulsans in 1921 were diverse.
What do you hope that readers will take away from Dreamland Burning? Is there anything you want readers to know before reading it?
First, I hope they'll come away thinking they've read a good mystery. Beyond that, I hope readers will be left hungry to learn more about not just what happened in Tulsa, but about the "riots" and lynchings taking place all over the country in the early 1900s. I'd love for them to have a clearer understanding of how deeply rooted institutionalized racism is in our country. And I'd like them to appreciate that acknowledging tragedies like the Tulsa race riot/massacre is only the beginning of what we need to do as a society to make things better.
What Harry Potter houses do your characters belong to?
I love this question! And I'm going to force myself to pick one house (instead of a mashup) for each of the young characters in the book. Here goes:

Rowan: Ravenclaw

Will: Hufflepuff

Joseph: Ravenclaw

Ruby: Gryffindor

Clete: Slytherin
Why does diversity matter to you?
For me, diversity  is reality. I want my writing to reflect the beautiful, complicated, diverse world we live in.
What diverse read(s) are you most looking forward to in 2017?
This is going to sound like a cop-out, but 2017 is such an amazing year for diverse YA lit that there's no way I could choose just a few. I've loved plenty already: Empress of a Thousand Skies, American Street, Piecing Me Together, The Hate U Give, Allegedly, and The Education of Margot Sanchez. I'm also counting days until Saints and Misfits comes out in June. It's hard to keep track with so many amazing diverse reads coming out, which is a pretty wonderful problem to have!
---
About Jennifer
Jennifer Latham is an army brat with a soft spot for kids, books, and poorly behaved dogs. She is the author of acclaimed Scarlett Undercover.  Dreamland Burning is Jen's second novel.  This hard-hitting novel of truth, memory, and history has received starred reviews from Booklist, Kirkus and School Library Journal.  Jen lives in Tulsa, Oklahoma, with her husband and two daughters. Visit her website at jenniferlatham.com or on Twitter at @jenandapen.
Connect with Jennifer: Twitter Ξ Website
---
Giveaways
Thanks so much to Jennifer for doing this post! This sounds like an awesome historical fiction, and I can't wait to see how the strands of the story tie together and how the emotions play out against the murder mystery backdrop. Be sure to keep up with Jennifer and her novels at the links above, and make sure to enter into the giveaway! Tomorrow's author will be S.K. Ali.