Welcome to Diversify 2017! Diversify 2017 is a series of interviews and guest posts centering around books that I'm especially looking forward to and that I think truly represent the diversity movement that's been shaping up these past couple of years. Today TSW's featuring a Muslim teen struggling to find herself called:
---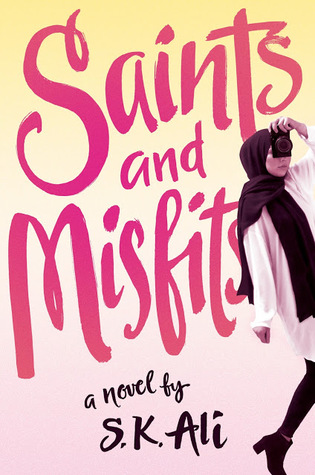 Release Date: June 13th, 2017
Saints and Misfits is an unforgettable debut novel that feels like a modern day My So-Called Life…starring a Muslim teen.
How much can you tell about a person just by looking at them?
Janna Yusuf knows a lot of people can't figure out what to make of her…an Arab Indian-American hijabi teenager who is a Flannery O'Connor obsessed book nerd, aspiring photographer, and sometime graphic novelist is not exactly easy to put into a box.
And Janna suddenly finds herself caring what people think. Or at least what a certain boy named Jeremy thinks. Not that she would ever date him—Muslim girls don't date. Or they shouldn't date. Or won't? Janna is still working all this out.
While her heart might be leading her in one direction, her mind is spinning in others. She is trying to decide what kind of person she wants to be, and what it means to be a saint, a misfit, or a monster. Except she knows a monster…one who happens to be parading around as a saint…Will she be the one to call him out on it? What will people in her tightknit Muslim community think of her then?
Description taken from Goodreads.
---
Interview
What do you love most about Saints & Misfits?
I cherish that Janna Yusuf, the main character, is a Muslim-American surrounded by strong women and a diverse ensemble of supportive characters. In this sociopolitical climate, at this time of pain for members of many marginalized communities, it's important to see the networks of care around us and reach out to them. I'm happy that I provided that for Janna.
Why do you root for Janna and why should readers love her?
Janna is someone working out her place in the world. And she's doing it from this intersectional spot of her identities as a Muslim, as a woman, as a child of divorce etc, of these identities converging and challenging her to stake out her claim in the world as she truly is. I think to some extent we're all working out a sense of our authentic selves and in following Janna's journey, we're rooting for the kind of safe world where we can truly be who we are without fear. I hope that's why we'd root for Janna until the end of the book, when she stands and is seen. 
Is there anything that you want people to know before reading Saints & Misfits?
I would like people, Muslims included, to know that Muslims are human and humans do all sorts of things. One Muslim's actions should not stand for the 1.7 billion who profess the faith. I included Muslims in the group of people who need to acknowledge this truth because I know that some may feel uncomfortable with the "monster" in my story being who he is.  However, it's a sad fact that every community grapples with horrific issues and it's time we came forward and say we do too. Because we're human, just like everyone else.
If you could have a conversation with any of your characters, who would you talk to and what would you say?
I would love to talk to Sausun because I think she's cool and up to things. She always has sugar on hand to dispense to others, for those moments when all is lost and she also appears to be perpetually on a mission, so she's not too nosy about your own life. She's basically a safe-space person. Additionally, the girl knows so many languages so I would just ask her to say things in different languages while I wrote them down for research for another book. Note to self: she's NOT real. I would also like to have some chai with Janna's mom and dad and ask how in the world did you two meet? Maybe the answer would take a whole afternoon and a half to get to the bottom of but that would mean lots and lots of chai, so YES.
What's one of your dreams as a writer?
One of my dreams as a writer is to compose something unconventional, different and mold-defying. And to write this text without self-doubt creeping in. In one of his interviews, my agent advises writers to name that voice of self-doubt and tell it to get lost when it shows up, so, yeah, I'd like to write my weirdly interesting novel without Waverly interrupting me.  Also, another (super-cliched) dream is to write in a little house beside the ocean, with my loved ones nearby but not too nearby so that I can actually get writing done. Maybe they can hang out in the house next door?
As a teacher, what kind of books do you love to give or recommend to your students?
See the above where I answered my dream is to write unconventional books? Well, that's the kind of books I recommend to my students. I teach second grade so unconventional means: The Book With No Pictures by B.J. Novak, Press Here by Herve Tullet, This in Not a Book by Keri Smith, and Wolves by Emily Gravett. Also, anything kidlit by Lemony Snicket/Daniel Handler — like all the  classes I've taught have loved his book 13 Words. I think it's very important to put diversity on required reading lists but not as a "oh-we-have-to" but because books with diversity ARE actually phenomenal. For example, almost every year without fail, my multicultural class votes for Big Red Lollipop by Rukhsana Khan, featuring a Pakistani family, as their favorite read-aloud of the year. Diversity could also mean many things. Like another favorite in my class is about an elderly illiterate man, Jeremiah Learns to Read by Jo Boggart. The elderly are quite marginalized in our societies so it's important for kids to see and acknowledge their struggles and presence as well. This is why Janna's elderly neighbor, Mr. Ram, is so important in my book, Saints and Misfits. I'd love to have chai with him too actually.
---
About S.K.
S.K. Ali is a teacher based in Toronto whose writing on Muslim culture and life has appeared in the Toronto Star. Her family of Muslim scholars is consistently listed in the The 500 Most Influential Muslims in the World, and her insight into Muslim culture is both personal and far-reaching. A mother of a teenage daughter herself, S.K. Ali's debut YA novel is a beautiful and nuanced story about a young woman exploring her identity through friendship, family, and faith.
Connect with S.K.: Twitter Ξ Website
---
Giveaways
Thanks so much to S.K. for doing this post! She sounds like a great person to have chai with, and I'm looking forward to seeing her voice in Saints and Misfits. Be sure to keep up with S.K. and her novels at the links above, and make sure to enter into the giveaway! Last but not least, tomorrow's author will be Aditi Khorana!