Welcome to  the last day of Diversify 2017! Diversify 2017 is a series of interviews and guest posts centering around books that I'm especially looking forward to and that I think truly represent the diversity movement that's been shaping up these past couple of years. This has been an amazing series to watch come together, and I'm glad that I can wrap it up with the one and only Aditi Khorana. Today TSW's featuring an Indian fantasy about two girls' quest to make things right called:
---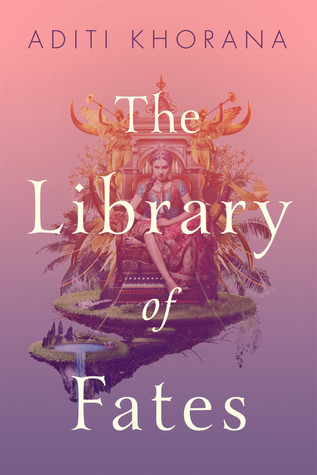 Release Date: July 18th, 2017
A romantic coming-of-age fantasy tale steeped in Indian folklore, perfect for fans of The Star-Touched Queen and The Wrath and the Dawn.
No one is entirely certain what brings the Emperor Sikander to Shalingar. Until now, the idyllic kingdom has been immune to his many violent conquests. To keep the visit friendly, Princess Amrita has offered herself as his bride, sacrificing everything—family, her childhood love, and her freedom—to save her people. But her offer isn't enough.
The unthinkable happens, and Amrita finds herself a fugitive, utterly alone but for an oracle named Thala, who was kept by Sikander as a slave and managed to escape amid the chaos of a palace under siege. With nothing and no one else to turn to, Amrita and Thala are forced to rely on each other. But while Amrita feels responsible for her kingdom and sets out to warn her people, the newly free Thala has no such ties. She encourages Amrita to go on a quest to find the fabled Library of All Things, where it is possible for each of them to reverse their fates. To go back to before Sikander took everything from them.
Stripped of all that she loves, caught between her rosy past and an unknown future, will Amrita be able to restore what was lost, or does another life—and another love—await?
Description taken from Goodreads.
---
Interview
What do you love most about Library of Fates? About your characters?
I love that Library of Fates has strong female characters – the kinds of women my friends and I identify with. I've read a lot of YA where young women are "rescued" by young men and I've always found this idea depressing. I love heroines who see the world with their own eyes, who rescue themselves and each other, who work together to subvert systems that don't serve them. Because that's what women have been doing from the beginning of time. And so it feels "true" to me that after the greatest tragedy of her life, Amrita has to pick up the pieces and figure out how to rescue herself with the help of Thala.
What's your favorite relationship within this story?
Thala and Amrita have a difficult friendship – they come from different backgrounds, they've had entirely different lives and yet, they still manage to empathize with one another, to see the world from the others' perspective and to help each other in moments of need. They have disagreements and fights, but they root for one another and have an unbreakable bond that's developed as a result of the experiences they have together and the personal wisdom they offer one another.
What made you want to change genres from speculative contemporary to fantasy?
I tend to think of my projects thematically rather than focus on genre and while Mirror in the Sky was about finding a sense of belonging in the world when you're different and "belonging" is an elusive thing, I wanted to write a book about a young woman who has always belonged, always been loved and had everything she ever needed, and to see what happens when all of that is taken away. I was fascinated with this question of who you become when life is stripped down to its bare essentials. The UN High Commission for Refugees just reported that 65.3 million people were displaced from their homes in 2015. I should add here that my grandparents were refugees – they came to India after the 1947 Partition and so I've spent a lot of time contemplating this question of starting over when you've lost everything, when there's no home left. I also wanted to talk about the intersection of feminism and colonialism. I loved writing a story about a young women challenging a system that's stacked against her on so many levels. In short, I wanted to find the best way to tell this story and fantasy seemed like an appropriate (and exciting) vehicle for it.
How have your experiences shaped your stories or elements of them?
I find that the subtext of my work is always race, class and gender, because these are things I think about all day, every day. I want to tell stories from a different perspective, and Library of Fates is loosely based on Alexander the Great's invasion into India, but it's from the perspective of a young woman. As a young woman of color, I learned history from the perspective of white men and I think it's the responsibility of every artist of color to at the very least question the way we tell stories and the viewpoints that we adhere to and ask ourselves whether these stories are true and whether they serve us. Now, Library of Fates is of course fictionalized, but I wanted to tell another version of a story that's been told millions of times.
What was the hardest part of writing Library of Fates?
I love writing long, contemplative novels but I wanted to write something fast-paced and fun.Throwing constant challenges at my protagonist was painful but necessary. Early readers have told me that Library of Fates is a real page-turner and I loved hearing this because making it quick-paced and exciting was really important to me. I love seeing characters having to use their wits to get out of impossible situations and there are so many situations in this novel that are just. impossible.
What do you hope to accomplish as a writer?
I'd like to create a body of work that's engaging, entertaining and thought-provoking and challenges the norms of how we see race, class and gender. I want to be able to encourage burgeoning young writers to tell their story and be as honest and vulnerable as possible. I want to continue to bring diverse and compelling characters to literature.
What diverse read(s) are you most looking forward to in 2017?
I just finished Angie Thomas' THE HATE U GIVE and OMG, it was brilliant. Also looking forward to Nic Stone's debut, DEAR MARTIN, WHEN DIMPLE MET RISHI by Sandhya Menon, IT'S NOT LIKE IT'S A SECRET by Misa Sugiura and THAT THING WE CALL HEART by Sheba Karim. So many great diverse reads out there this year that I'm excited about!
---
About Aditi
Aditi Khorana spent part of her childhood in India, Denmark and New England. She has a BA in International Relations from Brown University and an MA in Global Media and Communications from the Annenberg School for Communication. She has worked as a journalist at ABC News, CNN, and PBS, and most recently as a marketing executive consulting for various Hollywood studios including Fox, Paramount and Sony.
Mirror in the Sky (Razorbill/Penguin, 2016) was her first novel. The upcoming Library of Fates (July 2017) feminist historical fantasy, set in ancient India is the story of a louche, misogynistic dictator overthrowing an idyllic kingdom, and the women who fight to wrench it back from his hands. She lives in Los Angeles and spends her free time reading, hiking, and exploring LA's eclectic and wonderful architecture.
Connect with Aditi: Twitter Ξ Facebook Ξ Instagram
---
Giveaways
Thanks so much to Aditi for doing this post! I've been loving many of the Indian and other Asian fantasies coming out lately, and I'm excited to see what Library of Fates will bring to the table. Plus, I'm always up for great friendships anyway :D. Be sure to keep up with Aditi and her novels at the links above, and make sure to enter into the giveaway! Thanks for being a part of Diversify 2017, and I hope all of you out there continue to love, read, and promote diverse lit.