Thanks so much to Shanti @ Virtually Read for tagging me for the School Book Tag! (Shanti's pretty awesome and her blog is super cool, so go check her out!). I did want to add one in honor of my major, so I'll start with:
Computer Science: a very versatile story
Champion by Marie Lu
Of course I had to choose Champion as a versatile story–that aspect of it is one of the reasons why I love it so much! Champion is an ending, but it's also a beginning. It's deep, serious, and insightful, but it's also about love and very much about the lives of two teenagers who're just trying to make it in their world as painlessly as possible. I would recommend this book (this series, in fact) in just about any YA setting, and I'm glad that it was able to represent a field that I love equally as much.
---
Math: a book that left your head spinning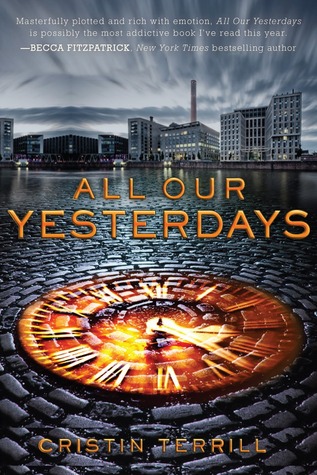 All Our Yesterdays by Cristin Terrill // Add to Goodreads
All Our Yesterdays was an incredible book, as the ratings may indicate, but it was also an insane book. The dual storylines and ideas were too much for me to take the first time, and I had to revisit it in order to understand what was going on (much like math). After that, this became one of my favorite novels concerning time travel. I guess that not all of it is entirely realistic, but the concepts stretched what I thought was possible in science fiction, and it was altogether a great read.
---
English: a book with beautiful expression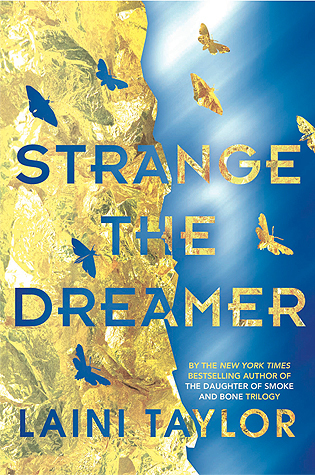 Strange the Dreamer by Laini Taylor
STRANGE THE DREAMER! Yes, a lot of books repeat on my lists because they're all so amazing (I'm working on it), but this time, Strange the Dreamer has a review, and I've read it all the way through. I could've used this book for pretty much any class, but it deserves to be recognized for its writing. I wouldn't say that the writing is what makes Strange the Dreamer , just because it's so great in its entirety, but it comes pretty close. The world-building is beautiful, the descriptions are perfectly done, and everything is precisely written. If you want a book with great writing, I'd recommend this one or, if you want something a little grungier, Victoria Schwab's (almost) equally as remarkable This Savage Song.
---
Psychology: a scientifically-minded character
Ungifted by Gordon Korman  // Add to Goodreads
I didn't love her when I first read the book, but I fell more in love with Chloe Garfinkle from Ungifted as I got to know her. When I first read her POV, I thought she was the most irritating part of the book. There's still some of that, but I also respect her for her love of science and enthusiasm for learning. And then there are all of the other characters, who are even more lovable than she is.
---
Chemistry: your favorite literary couple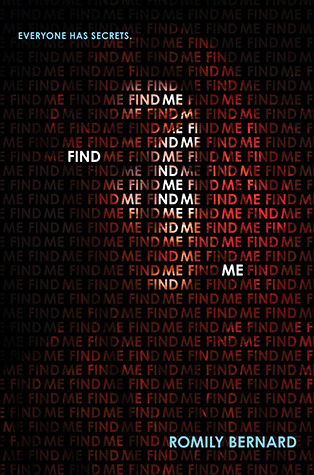 Find Me by Romily Bernard
There were many serious candidates for this one, but in the end, Griff and Wick have to be my favorite literary couple (since Day and June were out of the running). I've loved them from the very first book, mostly because of Griff, but also because of what Griff and Wick are able to be together. They're both super cool, but they stand for entirely different things, and they have to confront what they mean to each other time and time again throughout the series. For someone like Wick, who wants to love but doesn't really know, and for someone like Griff, who loves so much but can only love the good in the world, they sound pretty terrible for each other. They make it work. Somehow. Every time. It's not always pretty, but they're worth it to each other, and I think that's OTP material.
---
Biology: your favorite character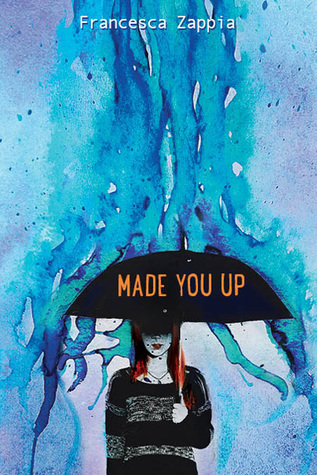 Made You Up by Francesca Zappia  // Add to Goodreads
I'm surprised by this one too, but my favorite character as of right now is probably Miles from Made You Up.
Usually, I love characters as individuals because of their goodness, like Ingrid in We Own the Night, or because of their tortured nature, like Norah in Under Rose-Tainted Skies. I love them because of how hard they try when no one's looking (Lada in And I Darken) or because they're real (anyone in Free Food for Millionaires, but especially Casey). I love them because they're cool (Kaz Brekker, obviously).
Miles is not necessarily a good person (which he admits), he doesn't have to try hard at a lot of things, and he only thinks he's cool. But I love him anyway, because he feels like someone I would know. I really enjoyed getting to know him and watching him fall in love with someone who doesn't fit inside his world, and he made many aspects of Made You Up for me.
---
Korean: a book from another language
1Q84 by Haruki Murakami
I'm in the process of re-reading 1Q84, and it's an amazing story. I didn't connect with it as wholly as I did with Min Jin Lee's work, but the way the stories intertwine is masterful. 1Q84 is the first contemporary adult novel in my memory that I read as a translation, and I won't lie, I feel like some things were lost in translation. There were moments that were lost on me or went right over my head. But I was also younger when I read this book for the first time, and there were elements I didn't understand then. Hopefully, the more I'll unlock with this novel the more I read it.
---
Art: a book you judged by its cover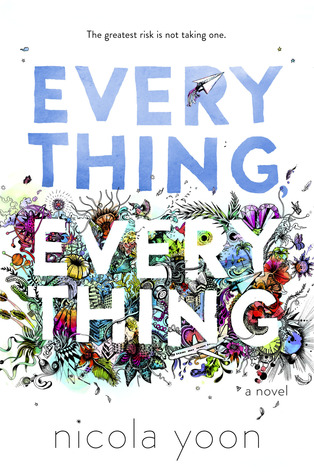 Everything, Everything by Nicola Yoon  // Add to Goodreads
I thought Everything, Everything would be, well, everything, because of all the hype surrounding it, the great blurb, and the beautiful cover. I know it's not fair to judge books by their covers, but I'm more inclined toward books that I find beautiful or intriguing. Everything, Everything was one of those, and even its advantage couldn't stop me from realizing how horribly deceiving the whole thing is. I don't know why people love this book so much, but it's not all that. Under Rose-Tainted Skies is equally as pretty and is written much better.
---
History: the last historical book you read
Pachinko by Min Jin Lee
I generally don't read historical fiction because it's just not my kind of genre most of the time, but I thoroughly enjoyed Min Jin Lee's Pachinko. It was my first time venturing into adult historical fiction, and I loved its in-depth and insightful look at culture and the past. The setting was rich, and the family that the book follows over generations was believable and incredible to watch. I was rooting for them every step of the way, and I was satisfied at the end.
---
Geography: a literary destination you'd like to visit
Eleanor & Park by Rainbow Rowell  // Add to Goodreads
Assuming this is real world, on any given day, I probably wouldn't want to be in Omaha, Nebraska, where Eleanor & Park is set, but if I ever got the chance, I think it would be super cool to be in late 1980's Omaha, Nebraska. I could still see some of the museums and outdoorsy stuff out there, and I would get to bask in a great age of music, comics, and pop culture. Yes, there are cooler places to visit and things to do (heck, I initially wanted to go visit the world of An Ember in the Ashes), but I really love this story and the world of it, and it'd be nice to visit it.
---
Drama: a book with a lot of overdramatic hype
Blood Rose Rebellion by Rosalyn Eves
Blood Rose Rebellion was super overhyped, but really, this book is just the poster child for all the books that need to stop shamelessly stealing from other books in a non-compelling way. We're boring and probably a little idiotic for buying the same kinds of stories with the same kinds of plots and the same kinds of characters, but it only gets worse when we buy books that do all that, and they do it in a non-endearing way. Fifty Shades didn't get to rip Twilight for no reason.
---
I tag Kaitlin @ Mismatched Reader and Kezia @ Chaperiosity!
What books do you think of with these prompts?