The Mondays Musts is a feature by Jessica @ Lovin' los Libros! Every Monday, you post about your must read, must listen and must see. Every week, I pick my musts based on a certain theme, which is expressed by one word that's used within the post. Last week's theme was innocent.
Starting from here on out, I'm going to stop theming the posts. In the beginning, it was a lot of fun, and it was nice to acknowledge when there was similarities in my picks. Now, the theme feels more restrictive than it feels orderly, and there's books, music, and news that I want to share that don't readily fit into categories I haven't already used. I'll still theme from time to time, but not as frequently. Thanks for loving The Silver Words and the Monday Musts!
Must Read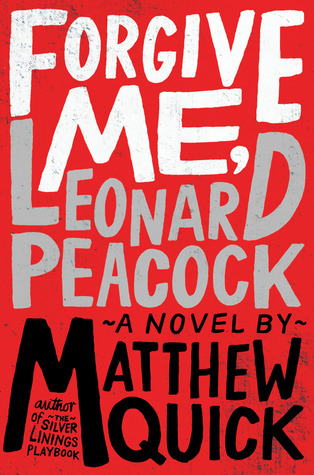 Forgive Me, Leonard Peacock was one of the first books I ever read that approached suicide in a way that I felt was realistic, in the sense that Leonard had supporters. It was truly a positive kind of read, despite the extremely sensitive subject matter. I love Thirteen Reasons Why as much as the next book blogger, but since the TV series has sparked discussion about it, I feel like there's a legitimate argument against its helpfulness toward people actually dealing with the issues that Hannah had. I fully recognize that Thirteen Reasons Why is good for the bystanders, for everyone, to recognize how they treat people and rethink the small things every day, because they can make such a difference. But Forgive Me, Leonard Peacock was a story for those who are hurting, those who think that nobody cares about them and there is no hope left. It's not perfect, but it deserves recognition. Read my full review.
---
Must Listen

Confession time: I don't love Winner's comeback that much. I do like it, and it's on my playlist, but it's nothing extraordinary. I debated picking Fool for this week's pick because I like it more out of the two, it shows off their new sound, and balances out their voices well, but I wanted to throw it back to what I know they can do: produce incredible songs like Empty. Even though I miss Tae and his absence is very much noted, I'm praying for him, and I know that Winner can produce the kind of music they used to with their current line-up.
 Must See
I recently started watching Goblin: The Great and Lonely God, which is a Korean drama that started in 2016 and ended early this year. I know it'll be pretty on and off depending on my school schedule, but I was completely overwhelmed by the beginning episode and was incredibly proud of one of my favorite screenwriters, Kim Eun Sook. She wrote my favorite K-drama ever, Secret Garden, as well as Lovers in Paris, Descendants of the Sun, The Heirs, and more. Her stories are amazing, and I hope that one day, I'll be able to write as well as her.
As for why I love Secret Garden so much, it deserves its own post, but here's the short version: Secret Garden is a great love story. Not too much more, not too much less. It's about longing, friendship, struggles, compromises, hatred, and hurt that can only come from someone we love. It's got some great lessons on culture, social structure, and class divisions as well, but more than anything else, it's about how we learn to live with our relationships.
Of course, it helps that it's not just a tearjerker because it gets emotional at times. It's hilarious and really well-casted and acted. It has great dialogue, pacing, and just enough magic to make it magical realism. All around, it's an epic drama, and I would recommend it to anyone.
With Goblin, Kim Eun Sook has officially become one of my heroes. For anyone thinking about trying k-dramas, her's are so ridiculously great

— Eli Madison (@thesilverwords) April 24, 2017
---
If you did a Monday Musts, link it below and I'll check it out!