The Mondays Musts is a feature by Jessica @ Lovin' los Libros! Every Monday, you post about your must read, must listen, and must see. 
Must Read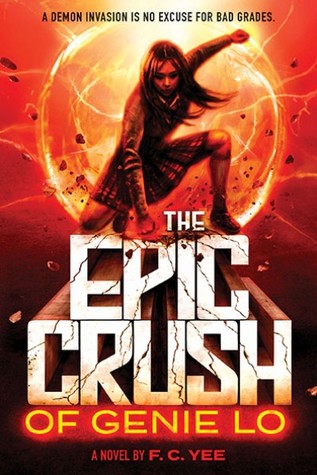 I'm super excited to see more Asian fiction coming into the YA world, and I'm hoping the trend will continue for the better with The Epic Crush of Genie Lo, which is releasing next month. At first glance, I wasn't too interested in it, but I heard that the protag falls in love with her sword (can you say Soul Eater?), and if that isn't compelling, I'm not sure what is at this point :3 Can't speak to its quality yet, but looking forward to this one!
The struggle to get into a top-tier college consumes sixteen-year-old Genie Lo's every waking thought. But when her sleepy Bay Area town comes under siege from hell-spawn straight out of Chinese folklore, her priorities are suddenly and forcefully rearranged.

Her only guide to the demonic chaos breaking out around her is Quentin Sun, a beguiling, maddening new transfer student from overseas. Quentin assures Genie she is strong enough to fight these monsters, for she unknowingly harbors an inner power that can level the very gates of Heaven.

Genie will have to dig deep within herself to summon the otherworldly strength that Quentin keeps talking about. But as she does, she finds the secret of her true nature is entwined with his, in a way she could never have imagined…
---
Must Listen

Last week, I went to a G-Dragon concert and it was epic. It proved that GD is an incredible performer and truly one of a kind, but it also showed me that more than anything else, GD is still just one person. It wasn't the emotional appeals that he tried to show. Those helped, but what really got me were the scenes when he was just dancing by himself on stage. Those moments showed all of his charisma, but it also demonstrated how lonely it is up there. Overall, I loved the concert and the concept of it, showing the different stages of his life represented by his music, and was really blessed to be there.
I thought a lot about what song to choose as my must, because there are so many great ones, from R.O.D, which I discovered because of the concert, to the classic, Crayon, to the throwback/remix days of This Love. But as much as I wanted to highlight those, I decided to go back to the song that made me love GD: Crooked.
 Must See
I've been catching up on my YouTube subscriptions slowly but steadily and finally watched the final episodes and end concert of K-Pop Star. It's been a crazy, incredible journey that produced some of my favorite performers ever (and some who are trainees soon to come. Waiting out on YG's survival show and Bang Yedam!). For the last time, here are some newbies who I can't wait to see come out of K Pop Star: Boyfriend.
---
If you did a Monday Musts, link it below and I'll check it out!