The Mondays Musts is a feature by Jessica @ Lovin' los Libros! Every Monday, you post about your must read, must listen, and must see. 
Must Read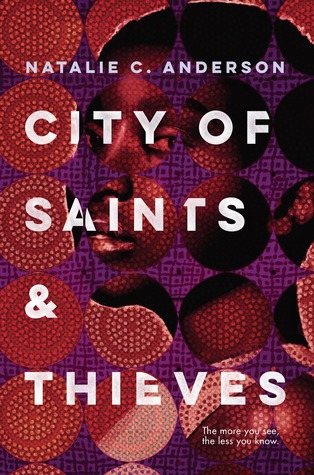 In the shadows of Sangui City, there lives a girl who doesn't exist. After fleeing the Congo as refugees, Tina and her mother arrived in Kenya looking for the chance to build a new life and home. Her mother quickly found work as a maid for a prominent family, headed by Roland Greyhill, one of the city's most respected business leaders. But Tina soon learns that the Greyhill fortune was made from a life of corruption and crime. So when her mother is found shot to death in Mr. Greyhill's personal study, she knows exactly who's behind it.

With revenge always on her mind, Tina spends the next four years surviving on the streets alone, working as a master thief for the Goondas, Sangui City's local gang. It's a job for the Goondas that finally brings Tina back to the Greyhill estate, giving her the chance for vengeance she's been waiting for. But as soon as she steps inside the lavish home, she's overtaken by the pain of old wounds and the pull of past friendships, setting into motion a dangerous cascade of events that could, at any moment, cost Tina her life. But finally uncovering the incredible truth about who killed her mother—and why—keeps her holding on in this fast-paced nail-biting thriller.
Description taken from Goodreads. 
---
Must Listen

I was looking through my old Monday Musts and felt like I neglected all of the instrumentals I love, and then really realized I'd neglected them when I hadn't mentioned lofi hip hop. Limes' jovial is the first lofi song I heard, and I came to love the genre. It's really smooth and great for studying when you want something a bit more upbeat. If you like this one, be sure to check out stzzy's last days of summer mix.
 Must See

It's official: Red Bull comes out with epic videos. Maybe it's because I've loved (watching) dance and martial arts separately for a while now, but seeing together in this fashion was incredible.
---
If you did a Monday Musts, link it below and I'll check it out!